---
News
Biography
Tattoos
Art
Shop
Contact
---
Original paintings available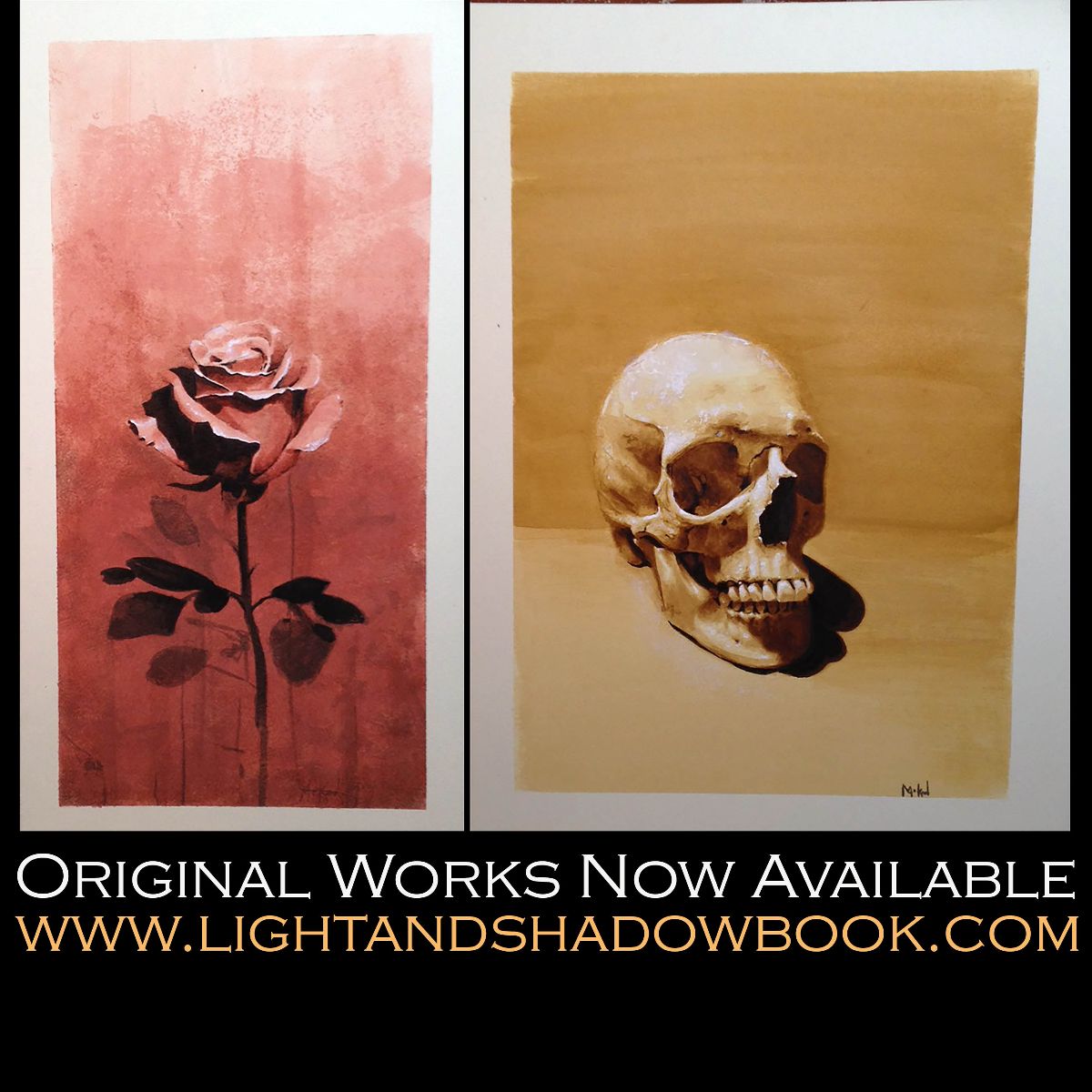 Heyo!
I've been doing a lot of quick monochromatic work recently, mostly in an effort to hone some ideas I've been tossing around in my head, and often the quickest way to get started on a piece is to lay in a rough stencil. But, as I often tint my surfaces before I use them, the question of how to get rid of excess graphite or charcoal during the stenciling process while keeping the tint layer in place has been something I've been dealing with on a daily basis. One thing that I've found that helps is pressing a kneaded eraser directly into the surface, and repeating without actually "erasing" anything. The eraser picks up the excess without removing tint. Just thought I'd share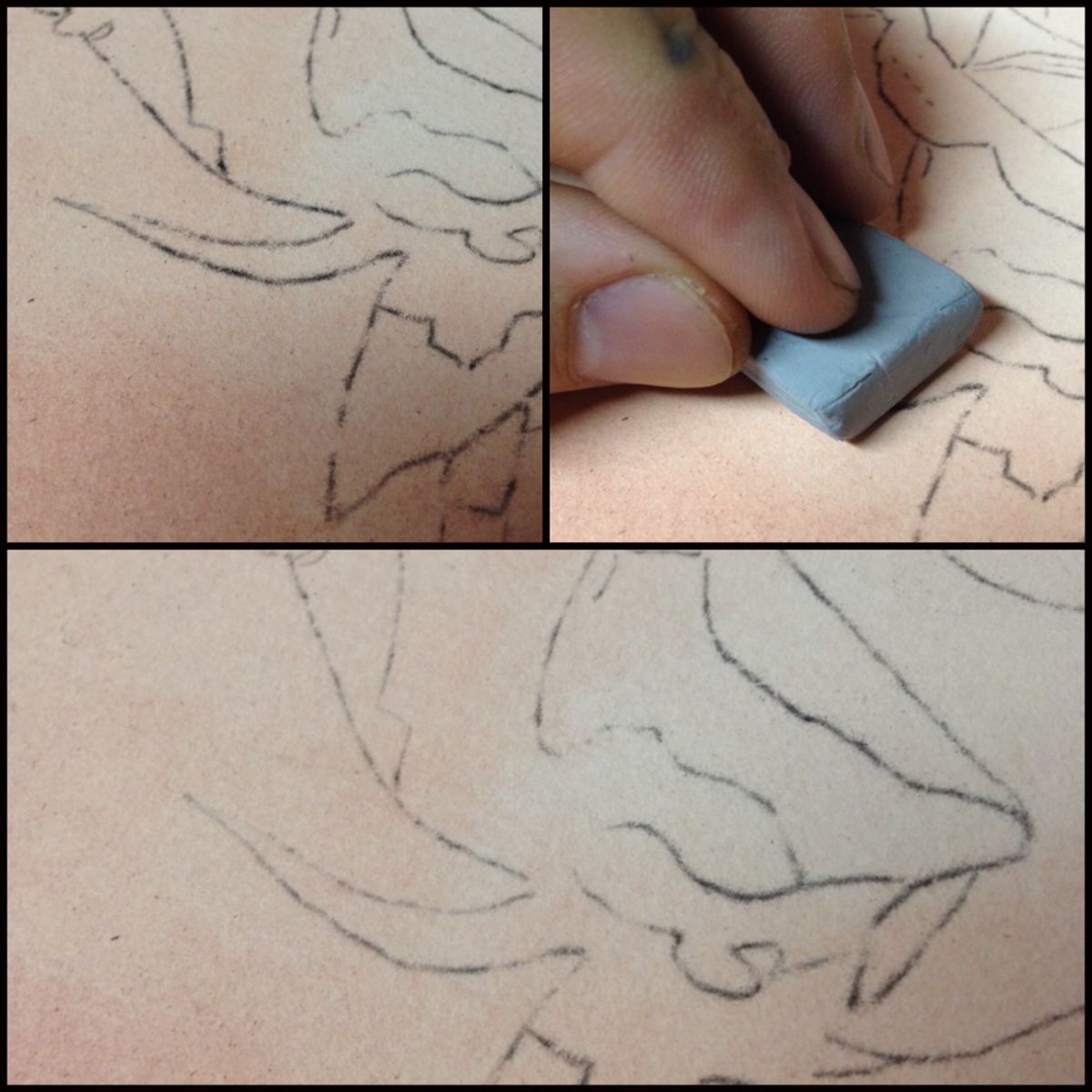 New Drybrush Tutorial!!
Guest Editor of Tattoo Master Magazine #24
I was recently asked to be the guest editor of Tattoo Master Magazine. We were fortunate enough to get an Interview with Alvin Chong, a feature on Gabrien Ripley of Off the Map Tattoo, tutorials by Myself, Tom Strom, Joshua Carlton, Kyle Allen and Richie Buldog. As well as a few equipment reviews and a bunch of other things. Available now at
http://www.tattoomaster.com
NEW DVD!!!!
Painting a Rose From Reference in Oils
by Ian Robert McKown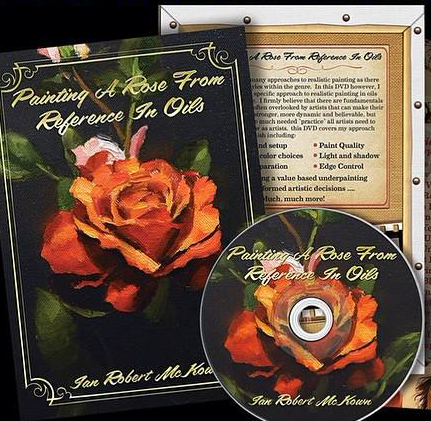 There are as many approaches to realistic painting as there are specific styles within the genre. In this dvd however, I show my own specific approach to realistic painting in oils from reference. I firmly believe that there are fundamentals of art that are often overlooked by artists that can make their work not only stronger, more dynamic and believable, but also provide the much needed "practice" all artists need to continue to grow as artists. this dvd covers my approach from start to finish including:
materials and setup
palette and color choices
surface preparation
establishing a value based underpainting
edge control
paint quality
light and shadow
making informed artistic decisions
much much more!
inspiration
Today I'm heading back from spending a week studying with David Leffel, Sherrie McGraw, Jaqueline Kamin, Gregg Kreutz and Rose Frantzen at this year's Artist Guild Week at the Scottsdale Artists School in Arizona. I thought I'd take a bit of time to write down some of my impressions about the trip to not only sort out what the trip meant to me, but also to give you a bit of a peek behind the curtains.
Before I describe the weekend, I'd like to impart a bit of backstory that I feel is essential to understanding how I approached it and what I ultimately got out of it. Years ago, I can recall going to an art store with a coworker to get some acrylic paints to paint a skateboard or possibly something on canvas. At that time, most of my "art" was closely related to my tattooing interests at the time, as I'd had no art training, or even practice outside of tattooing. While walking down the aisles I happened on to an issue of American Artist Magazine. If memory serves me, one of David's still lifes was on the front cover, and it stopped me dead in my tracks. I am absolutely certain it was the first time I had ever felt an emotional register from a piece of art. So of course I bought the magazine.
I will admit to feeling a bit overwhelmed looking at all the amazing examples of representational realism, and even the articles were a bit over my head (lets not forget I knew next to nothing about art theory or even the terminology they were using). But that experience always stuck with me. Within a short time I bought my first set of oil paints and got my hands on some of his (and his student's ) dvds and vhs tapes (you read that right). The approach and truth of his approach resonated with me, even though on the whole I would have to admit I didn't understand a fraction of what he was trying to convey. But I kept at it because I knew that THIS was the type of art I wanted to know and understand.. I could feel the truth of it.
As time passed I found myself working more towards painting for the masses and painting to sell rather than painting to learn how to paint or understand what it meant to be an artist. I wont go into the philosophy behind being an artist as compared to being a painter. In fact, as the accolades poured in it made more sense to keep on the same approach (even though in the back of my head I knew I was mostly faking my way through it).. Sometime last year I was discussing Leffel with one of long time supporters and friends, Ian Rumley (he wrote the introduction to my book, Light and Shadow) and he suggested, or I suggested that I make it a priority to meet and shake the hand of David Leffel. A week or so later I looked on his website and this workshop had opened up before me and I booked it as quickly as the computer keys would let me type.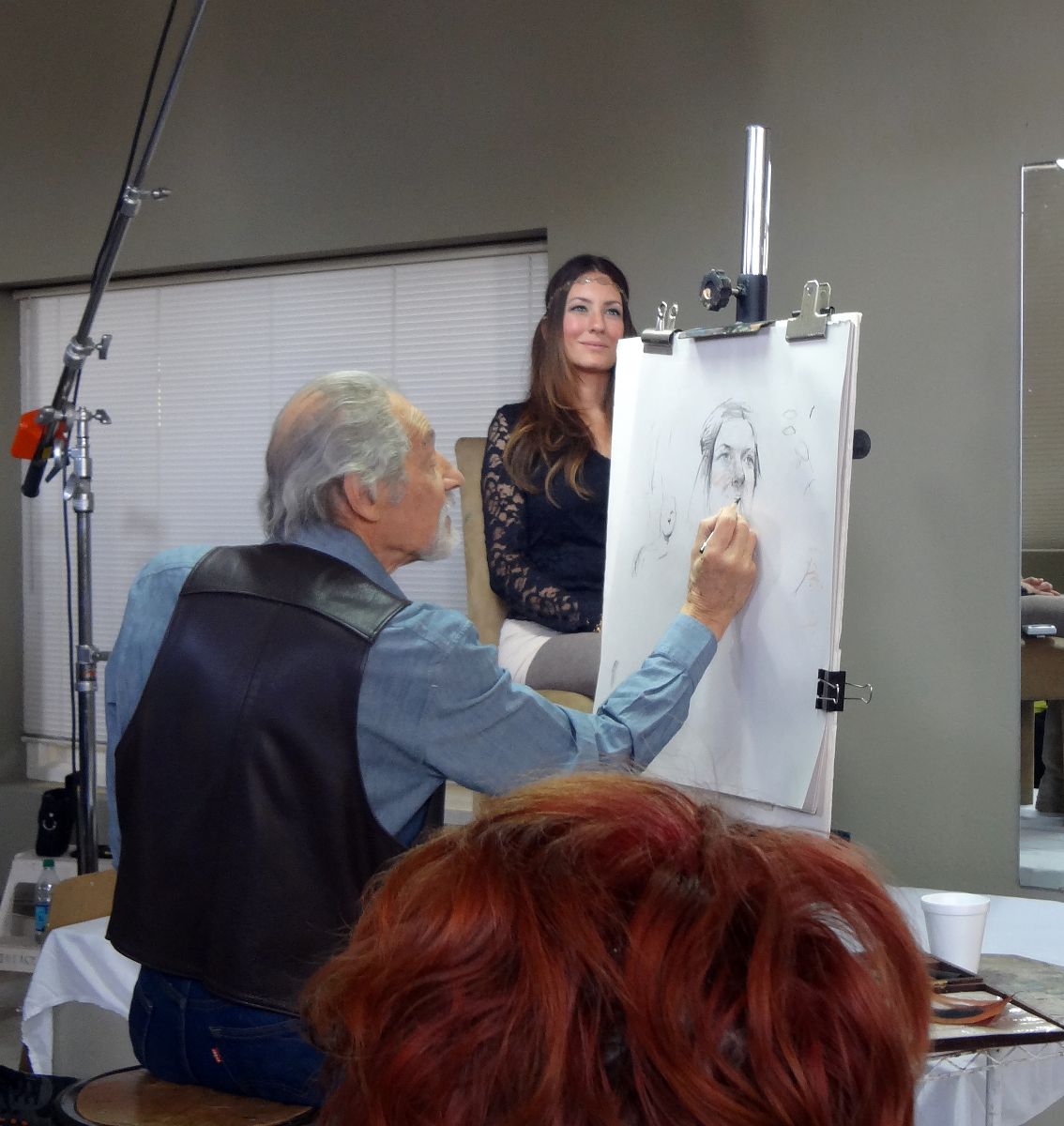 David A Leffel
This was a chance to not only meet and shake the hands of David, Sherrie and Gregg, but also it was a chance to study under them and take guidance from them, in person! To hear their teachings in the same room as they spoke them! What an opportunity. I will openly admit that if not for David and the rest I would not have taken up painting in the first place, and even though I'd somewhat lost my way searching for applause and accolades, they were the spark that created my interest in fine art, a thing that has carried over into nearly everything I do. I owe them EVERYTHING.
So here we are (were)… this weekend. What an amazing trip. It would be hard to describe how kind, patient and genuinely in love with painting the three of them are, and how openly they greeted all of the students over the weekend. Keep in mind, David is a living master, with Sherrie and Gregg just a hair behind. To shake their hands and look into their eyes was a true blessing for me, and meeting David, being able to shake his hand and tell him how much he has been a part of my life without ever having met me was one of the best moments in my whole life. There would be a lot I could say about the specifics of the weekend, but now that Im getting to the end of this I think I didn't really want to talk about that at all, because for me, this was about meeting three very special people and being able to take on a bit of their teachings and guidance. I will say that the student base was very open and nice and everyone seemed to have a genuine love for art and painting and wanted to just learn. The staff was amazing at the school and for myself, everything went smoothly.
I cannot more highly recommend trying to take workshops and seminars with artists who inspire you. It's nothing like reading their words or watching them on dvds because there simply is no dialogue between you and them unless you are in the same place and the same time. Invest not only in your own growth as an artist, but also in your own growth as a person… The enrichment I've felt from this trip transcends what I'd like to see happen with my paintings, it has enriched my view of myself, my world and my life. I have re-encountered the truth (the truth that works for me) in art and as a person, and that is priceless, truly. Time to catch my flight. Ian
Originas on sale!
I've put some of my origial charcoal drawing up for sale in my webstore.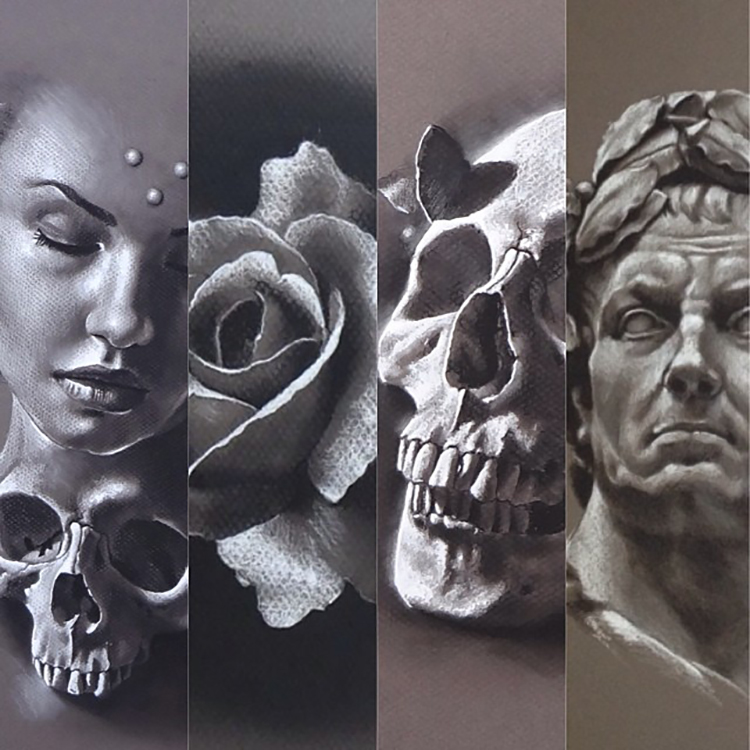 PRACTICE!
Got a minute to talk about Professional Development?
Its my day off and I have a lot planned. Today, I plan on finishing up two recent charcoal drawings as well as working on a recent painting that has been giving me problems, as well as watching one painting DVD and one or two tattoo DVDs. Sounds like a lot, right? Well, it's necessary, perhaps even vital, if I hope to reach my goals with some alacrity.
In my seminars, I often find a few places where I can step outside of the presentation I'm giving, or put my brush down and touch on the idea of Practice and Professional Development. As artists (read that as "tattooers" if that makes you more comfortable) we of course are always looking to reach new goals. Some goals might be selling more paintings (tattoos), getting more recognition, being better at what we do or something else centered around the idea of being better or having more. That's great. I have yet to meet an artist that on some level wasn't looking for something that would fit into those goals. Sadly, most do not realize that simply working is not going to get them to where they would like to go. So what CAN you do?
PRACTICE. The drawings I'm finishing up today have more to do with polishing my eye towards value based work that anything else; something that will help me to tattoo and paint better. Sure, the art might sell as well, but that's not the important part. It's about practicing the skill set I'm trying to develop, and possibly even more important, practicing the mindset of utilizing as much of my time as I can to help me attain my goals. If you have free time, make it productive free time.
TAKE WORKSHOPS AND SEMINARS. I'm getting ready to take a 5 day painting workshop at the end of the year, and I couldn't be more nervous and excited. There are seminars and workshops going on year round, across the country, and don't think you cant learn something from every one of them! Sometimes, you'll take a seminar and disagree with almost everything the person is saying but that is actually really helpful. It clears the air so you know exactly what you think. Even a traditional tattooer can learn something from a landscape painter. Trust me, its all interrelated. (eve if you can't travel, many seminars and workshops are available on DVD, or even as streamable webinars like the ones at TattooNow(dot com).
DVDs! Today, I am planning on watching a DVD by David Kassan. I don't even want to paint like the guy, but his expertise and work speak for themselves. So why not sit down and possibly learn something. Remember, you just need to be open to new ideas and open to learning and you just might! I'm also going to put on a DVD by Carl Grace. I love the guy's work and maybe, just maybe I can glean a bit about how he is able to d what he does.
Nothing you do to invest in yourself and career is going to be a waste, even if you only get a few things from it. No amount of time practicing will be wasted because its helping you refine your approach and ideas. Invest in yourself and your career. LEARN! Hell, if you have a particular skill set, TEACH! Today is tomorrows beginning, and if you have any goals, wasting time today puts off tomorrows successes. That being said, my coffee is getting cold and its time to get to work.
Handling your backgrounds, Part 1.
One of the most often overlooked aspects of art on skin, paper or canvas (on nearly a myriad of things) is the background. I can't tell you how many times I've seen an artist struggle with finishing off a piece because they have left the background for last and have no idea how to incorporate it into what they have already done. So here are some considerations when it comes to background that you might find useful.
1) Background is as important as the foreground. In tattooing it's commonplace for us to focus on the foreground or main subjects of a composition, but that doesn't mean that we don't need to carefully consider the background before we even get started on a piece. The background, is essentially the environment in which a subject or object will exist. Even in the vacuum of space, there is still a background, or light and dark, far away objects and those much nearer. The same is even more true when it comes to environments more heavily "populated" with other objects and subjects. It isn't an afterthought. It's something as fundamental as every other aspect in a piece of art. Don't think it is something that should be figured out at the end, or hastily handled when you have spent all your energies on the main subjects. Consider it NOW. Before brush hits canvas, or needle hits skin.
2) The Background effects the foreground, or objects within a composition, as well as those objects within the composition interact with environment around them. You can see the former most clearly when you have ambient light or color, or even reflected light (or color) on the subject. This is one of the biggest mistakes novice artists and tattooers make when it comes to handling their background and foreground. A novice artist might take the time to fully render a portrait on skin or canvas and then only at the very end decide to handle the background. Often, the decision involves a color or something quite a bit more exciting than a neutral background. But let me ask you this: Do you really think a face, within a brightly red and orange background, wouldn't have some of that red and orange on it? Would it be able to maintain just "normal" skin tones without interacting with it's environment? Of course the answer is No. It couldn't. This is a clear example of why you should have some idea from the very start how bright or dark and possibly how rich or neutral a background should be so that you can take that into consideration when working the entire piece.
3) In the same way the object is effected my the environment, the environment is effected by the object. For the most part we are talking about reflected light from the object bouncing into the area surrounding it. For example, a brightly lit red rose would be reflecting red onto every nearby surface and even a bit into the atmosphere surrounding it. The two (background, subject/foreground) are linked and interacting with one another on many levels, not just simply by being in the same place at the same time. How often have you seen compositions where even a bunch of roses are lit from several different directions, and aren't reflecting color on eachother? Yeah. Often. In that example, its hard for artist to focus on the "scene" rather than the objects within it. Tattooing or painting each separately, just wanting each to be perfect on their own, but missing that the perfection comes when they are working in unison, instead of separately.
Something New!
So, I have been known to ramble quite a bit, especially when it comes to tattooing in art, and I have about a million (or so) points of advice I'd like to start posting. Most of them are technical, or abstract in nature, but all of them involve the idea of mindfully considering our choices on and off the skin. So, without further ado, here is the first one.
Practice-The True Origin of "Talent"
As most of us are aware, there are a plethora of artists out there (tattoo and otherwise) who are not only younger, better and more prolific than us, but who seem to progress at paces that seem a bit otherworldly. We often attribute this to "Talent". Talent is sort of a catch al for these types of people, and a word we use to justify our own "failings" when comparing our work and careers to theirs: "So and So was born with a knack for art…talented from birth". Or, often times it is used to describe someone whose work is phenomenal, but almost always used in some sort of comparative way.
I would like to posit that there is no such thing as Talent. There might certainly be exceptions to the rule. Someone who indeed does seem to have a spark in them that enables learning and producing to come a bit easier, but they are of course, the exceptions. For the average (anti-pun?) Talented person, their abilities almost always rise from their willingness to practice their work when their peers would rather not. That's kind of the key point, really. It's not about simply doing your job. It's not about simply showing up to work day after day, or year after year, and merely meeting the bar that others have set for you.
True talent comes to those people who are willing to work on their skills off the clock, and to those who are trying to exceed and move beyond the bar that others have set for them. Maybe a better way of looking at it is that they have learned to set their own bar, and every time they meet it they set it just a bit higher. This sort of focus may come easier to some, harder to others, but its my firm belief that anyone, as long as they are physically and mentally capable, can learn to hone their skills and thus increasing their "talent".
As this is probably reaching more tattooers than anything else, I'll keep much of this related that that skill set and activity, but trust when I say this could be extended to nearly everything. So how does a tattooer "practice" tattooing? Well, the best way doesn't even involve a machine. It almost always involves a brush, pencil or something similar. That's right. Practice your art. It's easy to see tattooing as a creature unto itself, and in many ways it is. It has its own limitations, clearly, such as your working on a living, breathing, sometimes moving surface… The amount of corrections you're able to make are nearly zero. You're also limited on time and often times limited by people's budgets and their ability to tolerate pain. So clearly, in a lot of ways, practicing tattooing becomes something you do off the clock. You should be making art as often as possible. Most of the art you should be making should fall within the idea of shoring up your shortcomings when it comes to design, composition and whatnot. For instance, if you're having trouble with realistic work, you should spend a good deal of time working of similar projects on paper and canvas. Believe me, solving those problems in your free time is a blessing when compared to having to deal with them when you are actually making something permanent on skin. Unfortunately, we often times get caught up in the money making aspect of all this, and the idea of making something in our free time, without compensation is a bit off putting to some. But this is just a way of paying it forwards. The practice you put in now will have its own dividends in the end.
Its also east to forget we ARE artists, or in the very least we are craftsmen working in an artistic vein. Without a doubt, we can all improve our own art when it comes to tattooing and its just not as easy to do that when you are working on a customer. BUT, there are ways to raise your own bar during a tattoo.
First off, you should always be looking to do the best work you can do, regardless of compensation, how much you like the idea or how much you care or don't care for the client. None of that should matter, really. Of course, as a working artist, you have to be compensated, but what if someone came in with a budget of 200$. So you design a tattoo appropriate for that budget, but as you begin working on the piece, you see you'll have a bit of extra time on the end. So what should you do? Give them the 200$ tattoo, or the 300$ tattoo at the 200$ price? Clearly, if you have a chance to raise your bar, you should, If not for you, then for your client and ultimately your career. I don't think as this point it needs to be said that if you are involved in social media, like Instagram and Facebook, that you are being watched. Your work is being watched by your peers and current and possibly potential clients. So ALWAYS do your best. In this case, the "practice" is the mindset of practicing setting your bar higher. Just doing the tattoo, when you do have a chance to make something a bit better, is reinforcing that you're comfortable with your current level of success and ability (talent).
Practice is about always being focused on honing your abilities and knowing that you can be doing better. You CAN be more productive. Heck, even doing a few thumbnails of tattoos you might like to do every day is doing one more thing you weren't doing. THAT'S what the "talented" artists are doing. Trust me that some make it look effortless and easy, but nothing great ever came without great intention. Be that. Do that. For myself, I do a lot of monochromatic work OUTSIDE of tattooing because for me, that's where my interest lies IN tattooing. But the practicing comes easier when I'm not under the pressure working on the client.
So, stop looking at the other guy or gal and chalking up their work to "talent". Be the person who works harder than the rest and you will have every opportunity you'd like to succeed and progress. I'd hate to say something as cliché as "choosing not to succeed is choosing to fail" but it true, or at the very least it's choosing to never stand out in the crowd. Get some art supplies, take some workshops, join a painting group or just make yourself sit down and you'll find it comes easier over time. Practice is just as easy of a habit as not practicing. Well, anyhoo, I ramble. Make the decision, show up, and get to work. See you out there.
New Videos!
A couple of quick tutorials!!!
WEBINARRR!!!!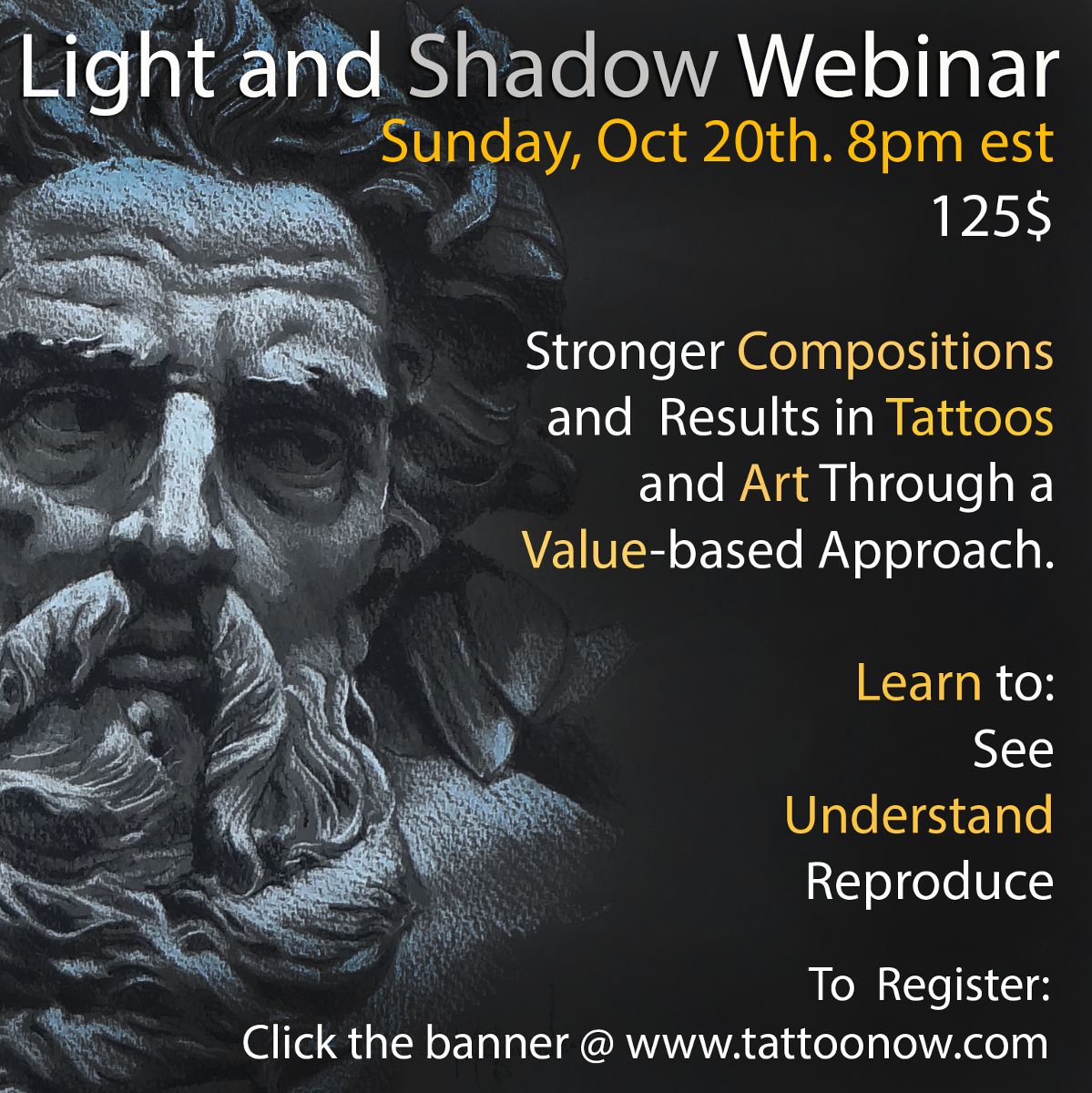 Thats right! Sunday Oct 20th at 8pm EST, we will be broadcasting live my seminar "Light and Shadow"... Learn how to see, understand and reproduce dynamic value structures in a composition or piece. Registration is now open! go to:
http://www.tattoonow.com/Tattoo-Supplies/Professional-Development-Events/item3797.html
hope to "see" you there
New Video
Here is some great footage shot and edited by the talented Richie Bulldog. This is me tattooing at the 2013 Paradise Tattoo Gathering.
Tattoo Aftercare
A quick note on tattoo aftercare... At this point I would hope most of you who are collecting tattoos have found an artist or artists who are proficient in applying he tattoos to your skin. With the amount of readily available examples of good work in all of our news feeds every single, going to an artist for mediocre or poor work just doesnt make sense. There's no reason to settle for bad work. That being said, if you are an enlightened client, I should hope by now you realize that possibly the most important facet of you having a good tattoo is the aftercare. It really is just as or possibly even more important that the application. As an artist my primary responsibility is fulfilled the moment you leave the studio... thats when you need to get to work! Let's all agree to ditch petroleum based products. I'm not certain that any studies have been conducted to prove it, but empirical evidence has shown me over the years that healing a tattoo with petroleum based products can often be problematic, with clogged pored, breakouts, soggy and suffocated wounds and beyond that they are generally a stick, dirt attracting mess.
There are a number of all natural balms and butters out there designed by people familiar with tattoos and how to heal them. These products are great, and generally allow the body to do it's business while having the perfect amount of moisture to prevent scabbing. I myself use Hustle Butter Deluxe? during and after the tattooing process. I dig the smell, it reduces redness and from what I've seen over the past year, decreases healing time. In fact I think nearly everyone in my shop uses it, and I regularly give it to customers to take home and use during their healing process.
Regardless of what products you decide to use, isn't your tattoo worth a bit more consideration and investment than globbing on some A&D or a similar product. Ask your artist about alternatives.. And frankly, if they don't know, look online.. see whats available to you. You just spent a god chunk of change on your tattoo... take good care of it.
Daruma Doll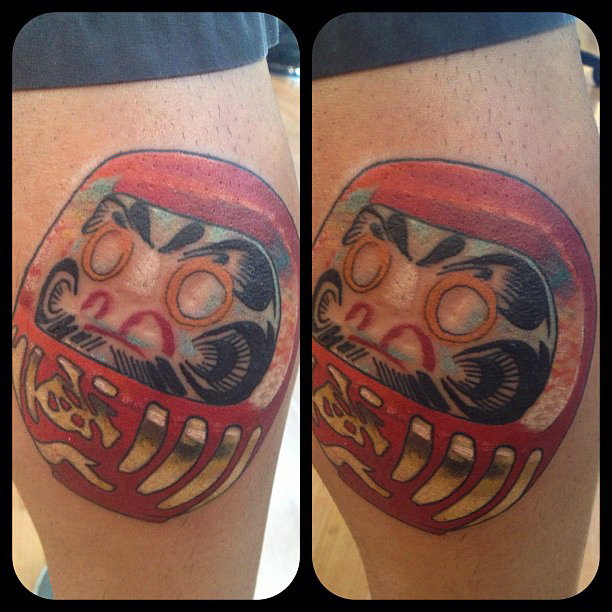 I got to do this Daruma doll yesterday on a client's calf. Here is an excerpt from wikipedia-
"The Daruma doll (?? daruma?), also known as a Dharma doll, is a hollow, round, Japanese traditional dollmodeled after Bodhidharma, the founder of the Zen sect of Buddhism. These dolls, though typically red and depicting a bearded man (Dharma), vary greatly in color and design depending on region and artist. Though considered an omocha, meaning toy, Daruma has a design that is rich in symbolism and is regarded more as a talisman of good luck to the Japanese. Daruma dolls are seen as a symbol of perseverance and good luck, making them a popular gift of encouragement."
Current and on the horizon
Well, with traveling down to a minimum this month and the next, I'm going to open up some free time to start a few more paintings, as well as hopefully film a DVD for a release later this year. Im hoping to have it be a two disc-format with one disc bein dedicated to my approach to an oil painting from start to finish. The other disc would have tutorials, maybe an hour long each taking the viewer through the processed outlined in my book for Charcoals, oils and ink. I will be offering pre-sales at some point, once I nail down the who/when/where of recording.
In the meantime I still have book, prints, shirt and original works available in my webstore!
http://www.lightandshadowbook.com
Color Tattoo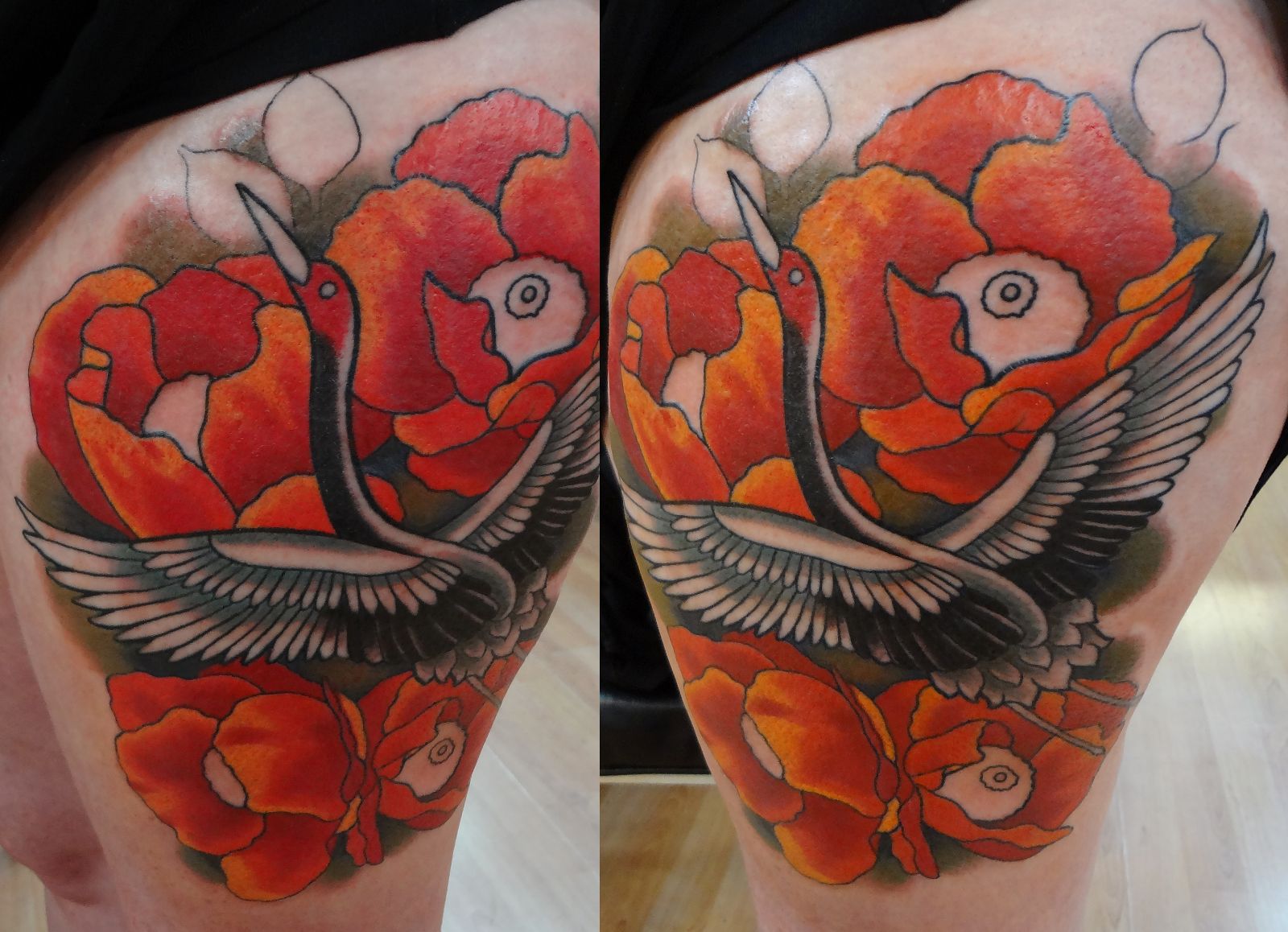 Often times it may seem as though the only tattooing I pursue is black and grey realism or portraiture...Nothing could be further from the truth. In fact I often use color, even vibrant colors in my tattooing, and often use bold, sculpted line work. The above tattoo concept was brought to my from a client who had lost some family members. The imagery envoked something in her, and even though the poppies are clearly too big when compared to the crane, we decided to run with it. This is the second sitting with one more to go!
Paradise Tatto Gathering 2013
This past weekend Off The Map tattoo hosted the 2013 Paradise Tattoo Gathering in Keystone Colorado. It was 4 days of teaching, learning, tattoing and in some cases painting. I can honestly say that this was the best time I've ever had at a convention. Numerous world class artists, all tattooing, conversting and teaching one another...It's truly a show unto itself. I was able to do 3 fun tattoos as well as teach a seminar to a packed room! Looking forward to the next Gathering. Hope to see everyone there.
Healed tattoo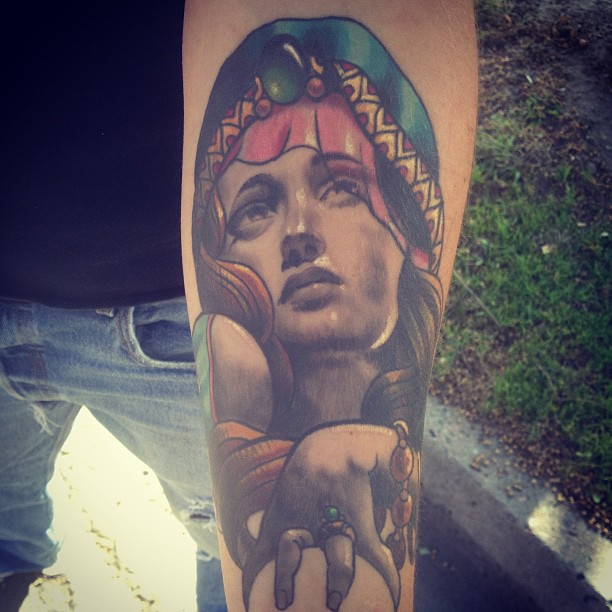 Caught a friend walking around today with a several weeks-healed tatto. This gypsy tattoo was his original idea, but I was able to take it and twist it a bit to suit my interests. We are both happy how it came out!
New Charcoal Rose Available!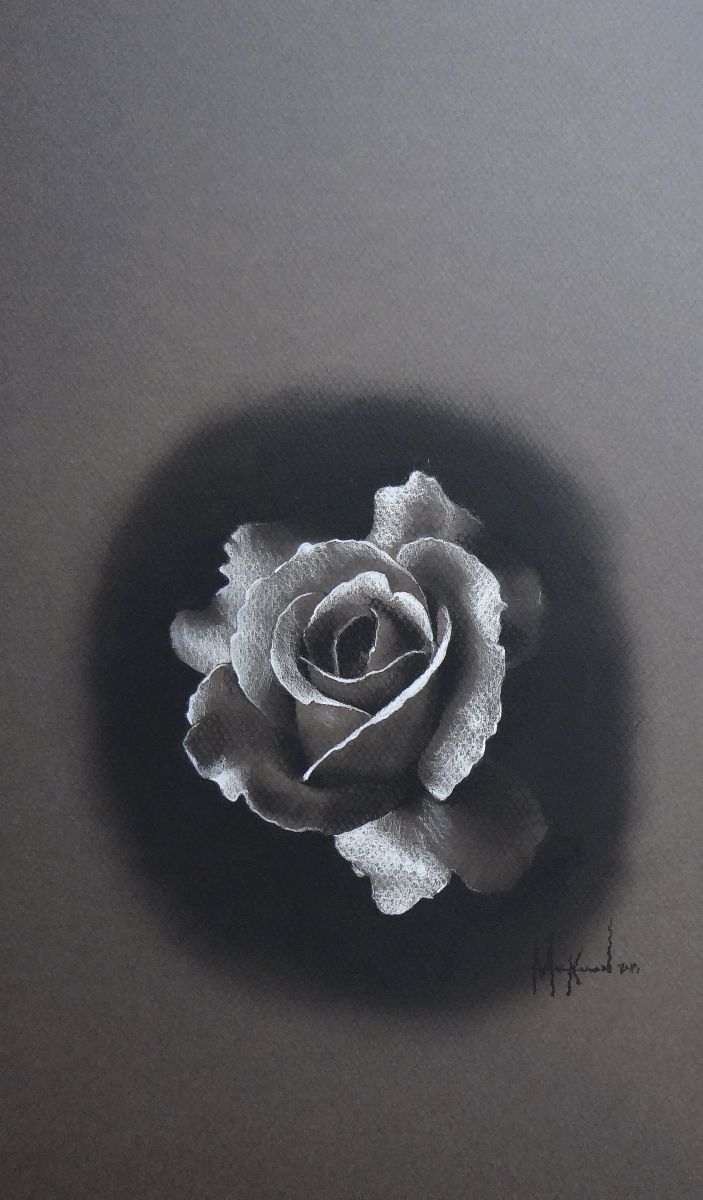 My newest Rose, a Charcoal on Tinted is now available in my webstore.
http://www.lightandshadowbook.com
Self Awareness in Tattooing
One of the things that irks me the most (something that also seems to be happening more and more frequently) are artists who cannot or can but refuse to be critical of their own when when compared to the work of their peers. Its really easy to look at horrible tattoos and as an artist think "yep, im better than that". Most artists seem to have a good compass when theyre looking at work that is "below" theirs. What im seeing more and more often are artists who cannot gauge the comparative "goodness or badness" of their work when they are looking at artists that are better than they are. This is art. "Art"... I get the argument that its all subjective. But when you really get down to it there are elements in this medium that can be used to compare tattoos beyond the whole art is subjective argument. When i was up and coming (still am as far as im concerned) i always had a clear idea of who was doing better work than me. Still do. And with all this social media its even easier to scroll past amazing tattoos all day. THAT should be your compass. Dont lose sight of where your work should be headed. Treat your customers bodies with respect and if youre not doing good enough work for the project theyre hoping to start, have the courage to pass it on. Be mindful of your own work because the more youre truly aware of your own abilities or standing, the easier it is to know what needs to change to get up another rung on the ladder.
New Original Sketch available for purchase!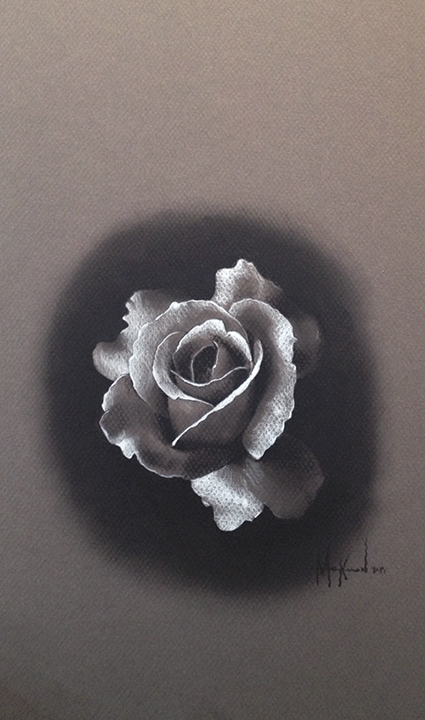 I've got a new original charcoal sketch available for purchase. This rose is on mounted, tinted paper. approximately 10x20". To purchase this ;iece, or look at other merchandise, visit my webstore:
http://www.lightandshadowbook.com
new charcoal drawing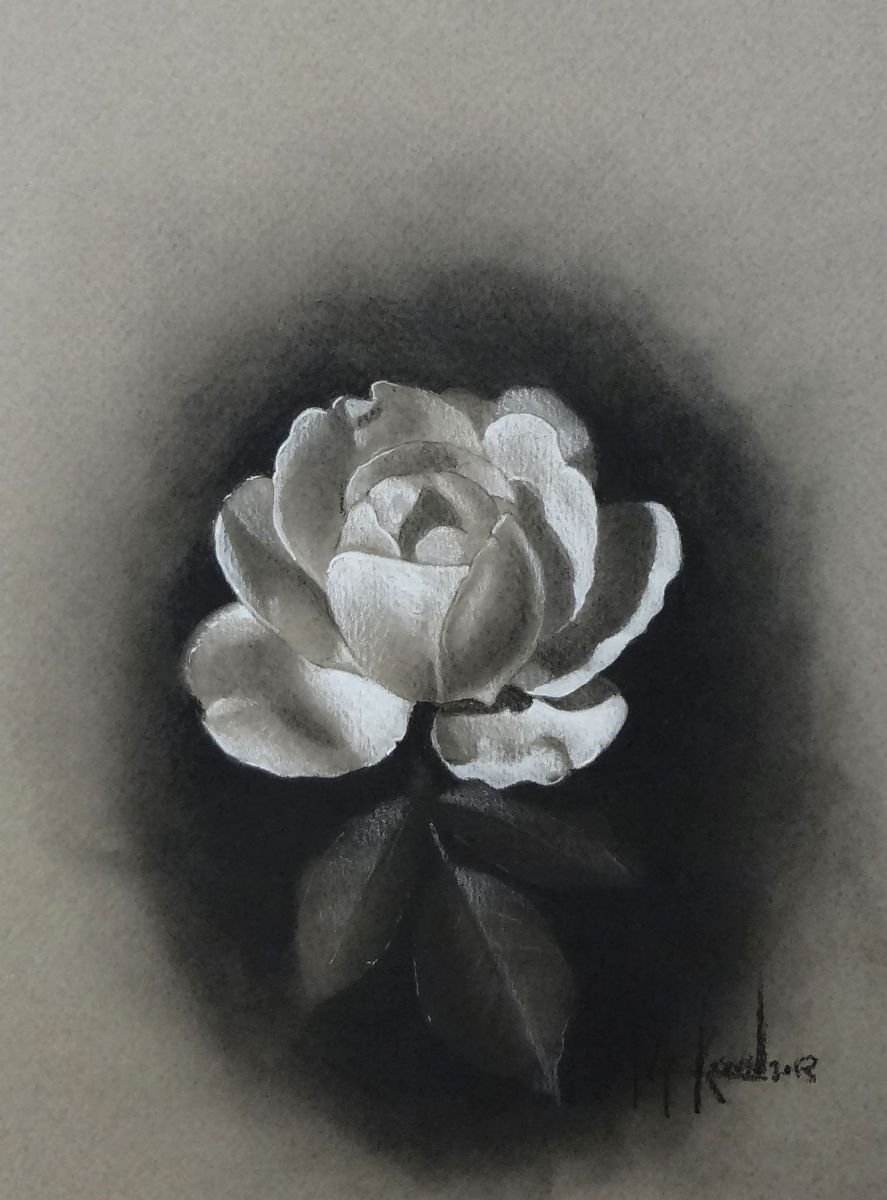 I had a bit of downtime so i sketched up this rose that will be tattooed at this year's Paradise Tattoo gathering. Charcoal and chalk on tinted paper.
Hell City this past weekend
Just wanted to say how great of a time I had tattooing, teaching and meeting so many great artists. When you have a collection of top tier and similar tattooers under one roof, the amount of creativity in the air is pretty staggering. I was taken aback by how many artists who I admire not only knew who I am but followed my work. I feel honored to have been invited to work alongside them. Big thanks to everyone who made it out, including the clients and spectators. Hope to see everyone again next year!
Prints are in!!!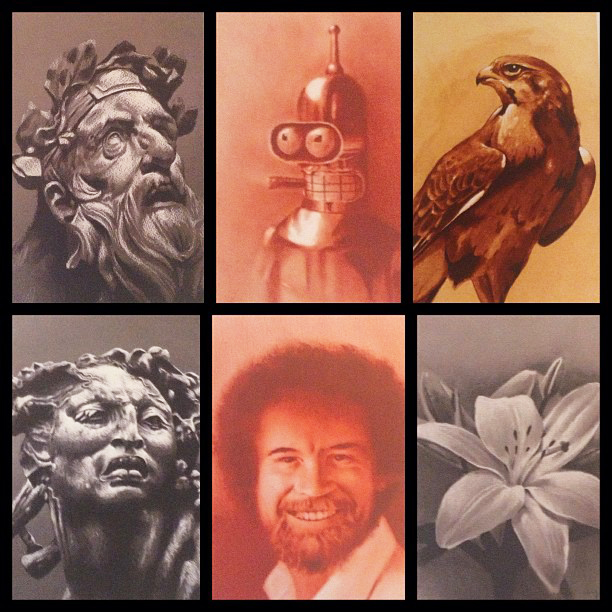 I have prints of these original works now available in my webstore! From Bob Ross to the Lilly, they are 12x18" and all are signed! Inexpensive. Check them out
http://www.lightandshadowbook.com
They have arrived!!!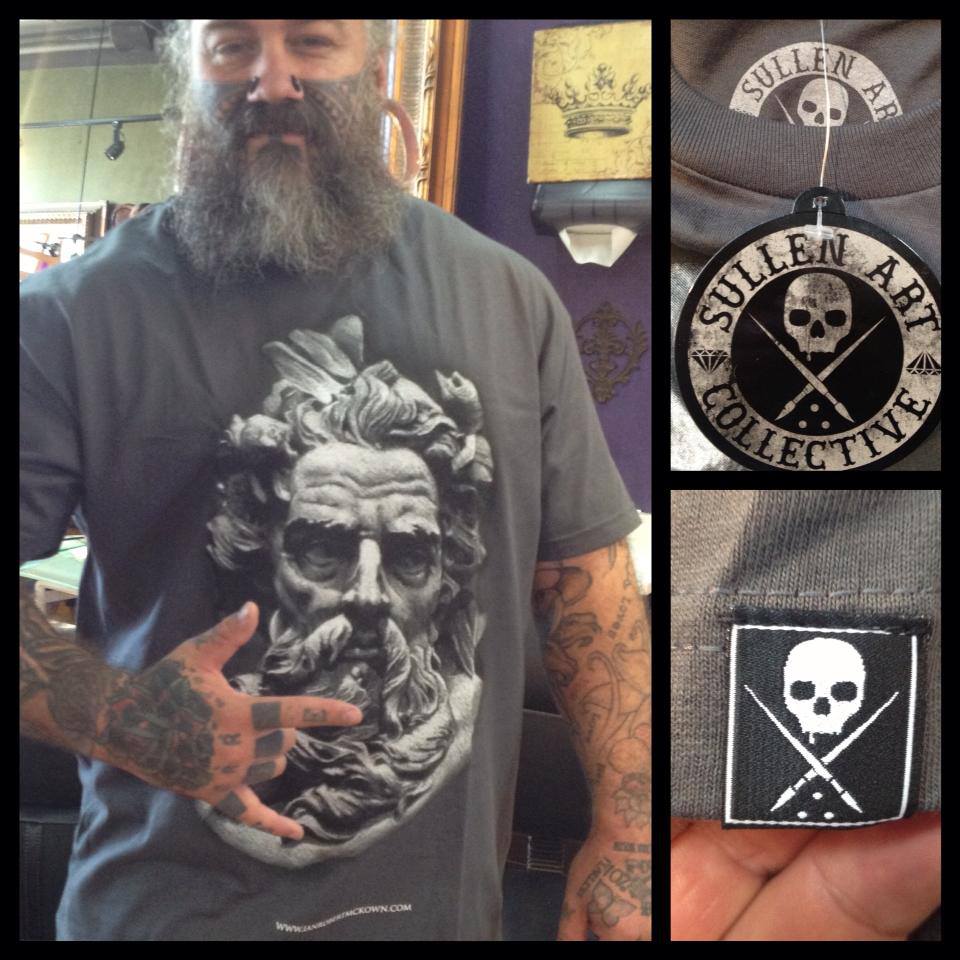 http://www.lightandshadowbook.com
Recent commission work
I recently painted a commission piece for a friend who lost his fater. I'll be posting a time lapse video soon!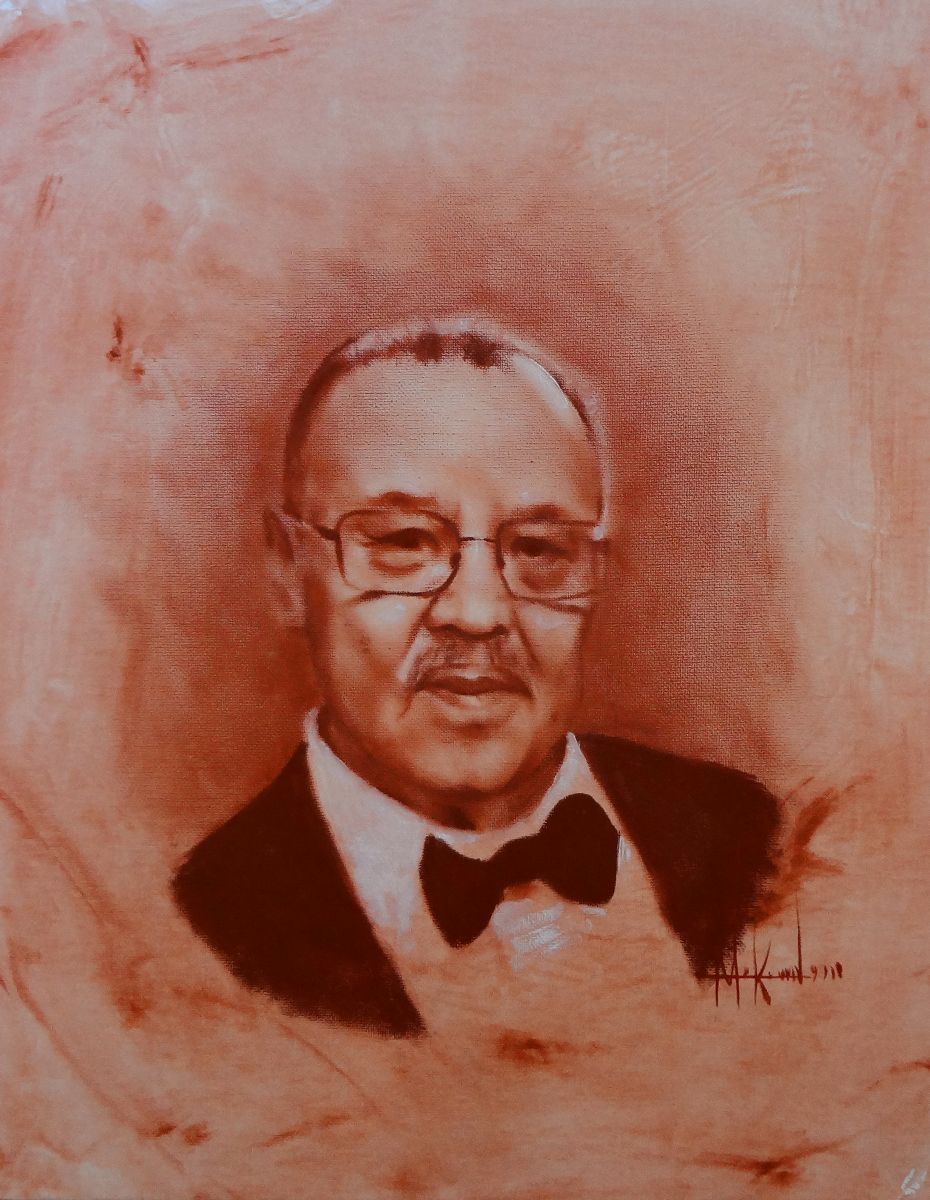 Prints!
Im getting a few more of my original pieces printed up for Hell City and for the webstore. Ill post a complete list when i have a clearer idea of which ones will be available.
Paradise Tattoo Gathering Openings
I have some space for this year's Paradise Tattoo Gathering in Keystone, Colorado! please feel free to contact me if your'd like to get some work done!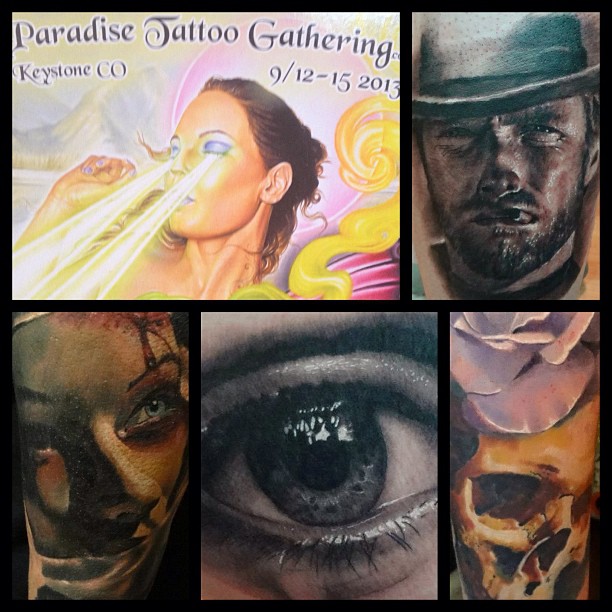 <br>
Filming a new tutorial
Often as tattooers and artists we are commissioned by clients to tattoo, point, sketch or draw a portrait from a reference that is less than perfect. Many times the photo is a scanned image from a wallet sized photo, or a photograph that is so washed out with flsh that its hard to see anything. So, to help artists who are unfamiliar with how to adjust the reference in photoshop, i'll be making a tutorial suggesting different ways to manipulat the photo to get a better end result. I'll post more soon.
T Shirt Pre-Sales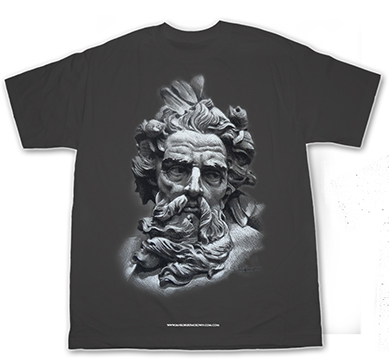 Presales have begun on my Poseidon design tshirt. Printed by the guys at Sullen Clothing, these range from small up to XXXL. Ther shirts will ship next week and I only have a limited number so get your orders in!
http://www.lightandshadowbook.com
T-Shirt Presales!
I recently contracted Sullen Clothing to print some tshirts for me. They are a charcoal grey with my "Poseidon" Image n the front. I will have them in the webstore as presales by the end of the day to shit next week. Ill offer them as a bundle with my book as well. Keep your eyes peeled!
http://www.lightandshadowbook.com
Original Art
I recently completed this Charcoal on Tinted Paper of Ceasar. It's available through my webstore!
http://ianrobertmckown.bigcartel.com/product/original-charcoal-ceasar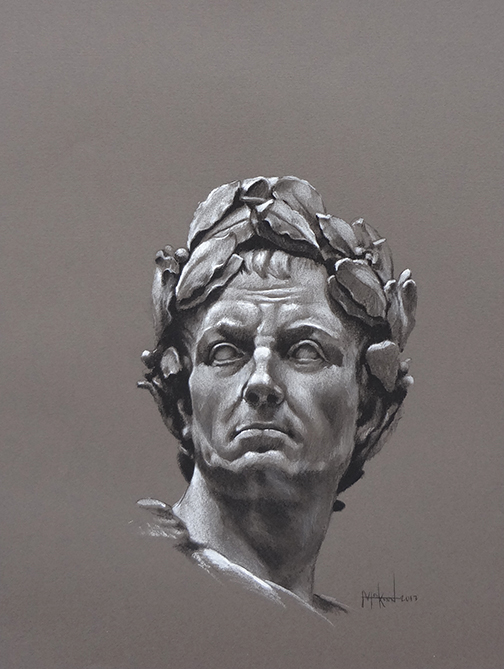 Oregon guest spot!
Ill be tattooing at Off The Map Tattoo in Grant's Pass Oregon August 6-10 so if youd like some chair time or want to just say hi, call of stop by the shop!! (541) 244-1141
Finished a new painting!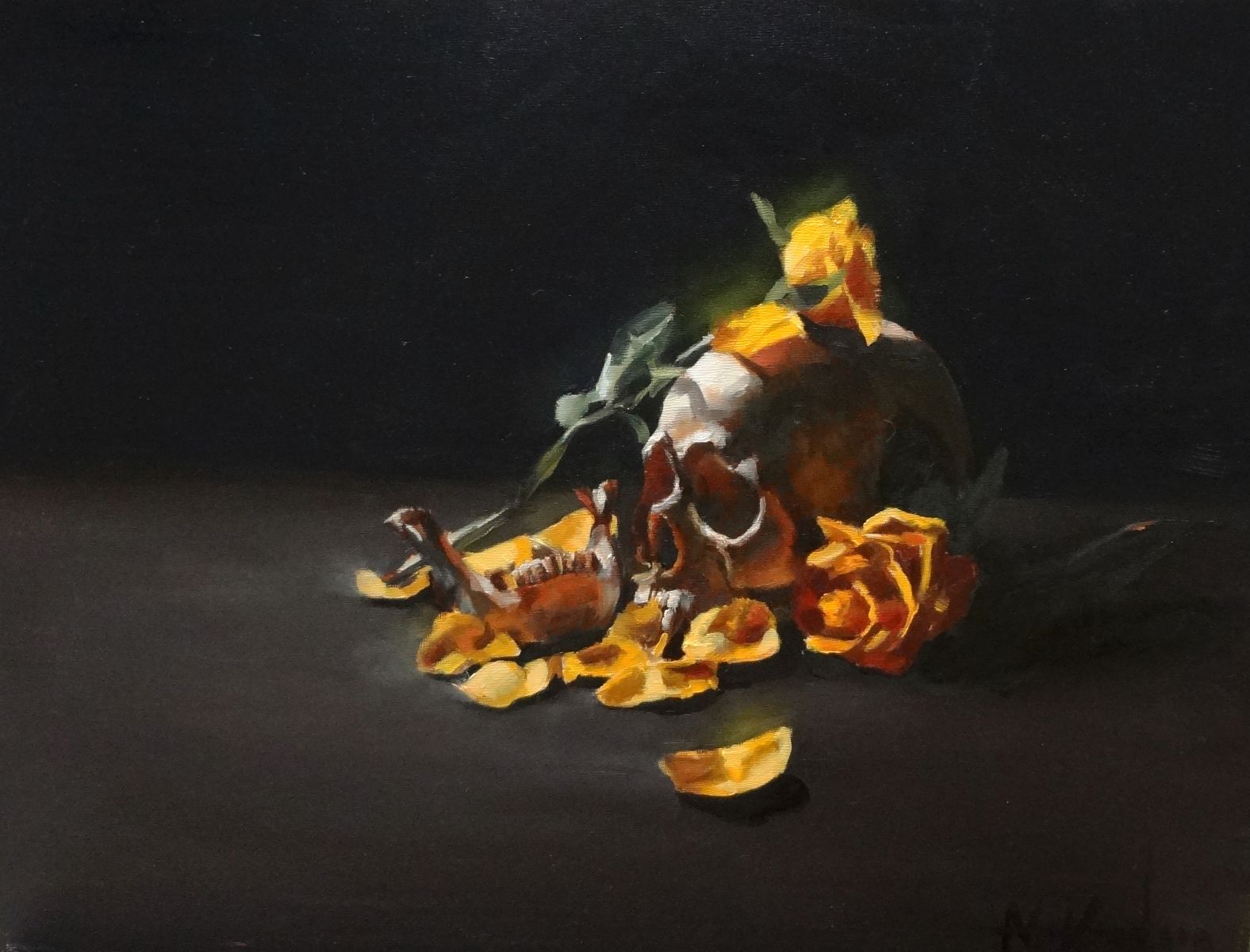 Decens Extinct. 18x26" Oil on Board. Becoming Extinct is the loosely translated title
Hannibal Lecter (Anthony Hopkins) time lapse tattoo
I had to disable the sound so that it could be played on mobile devices. Thanks for looking!!!
Guest Spot OREGON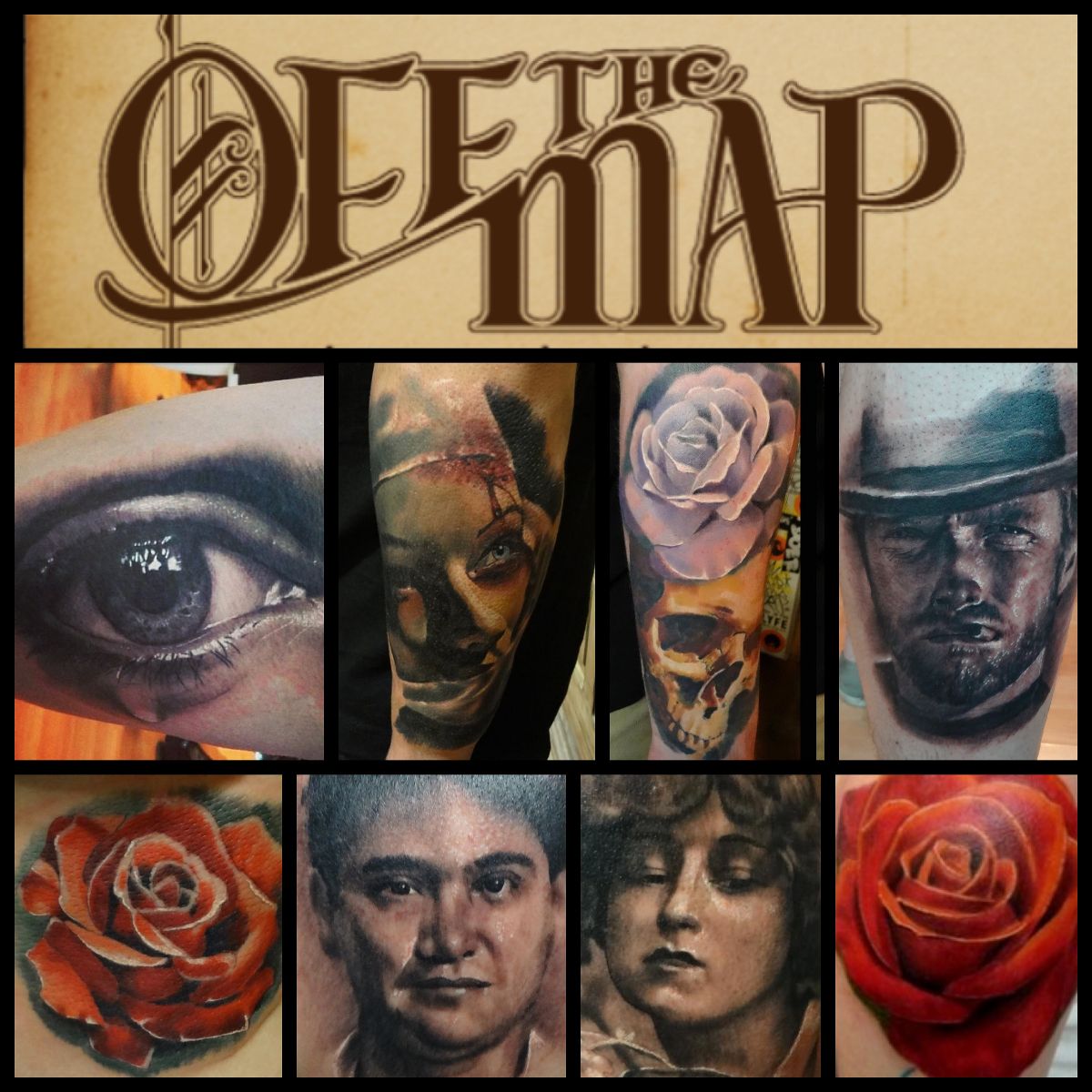 I will be tattooing at Off The Map in Grants Pass Oregon August 6-10. If you'd like to book some time in the chair, please contact me at ian@ianrobertmckown.com. See you all there
New Painting---almost complete!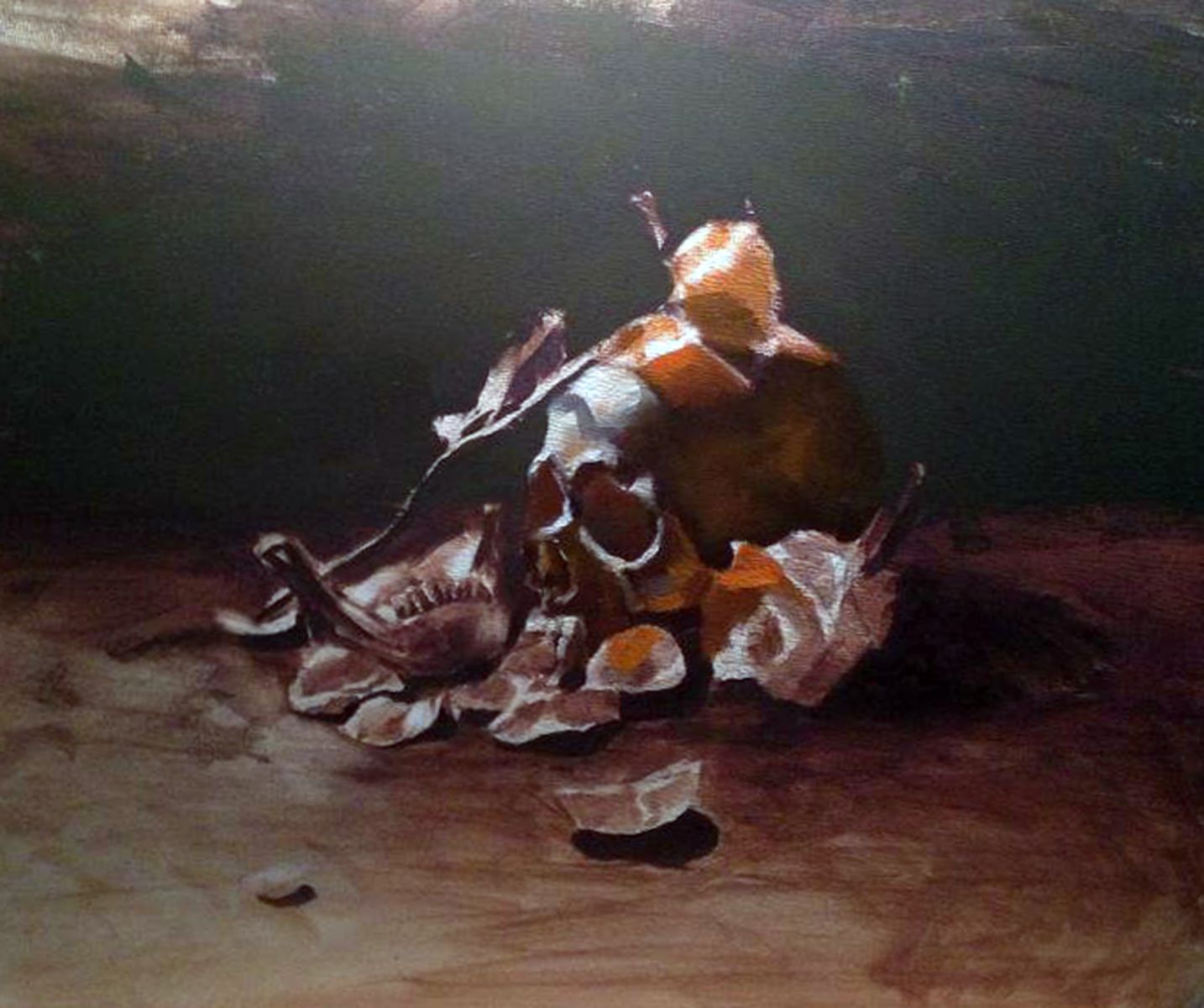 I started a new painting, hopefully to finish it in time for an upcoming group show. Oil on board, 18x22"
more to come!
Leslie Neilsen photo montage
I found a bunch of in progress shots from a 2010 painting of Leslie Neilsen. The guy is one of the legends and I really dig his character. The painting was 11x14", Oil on Canvas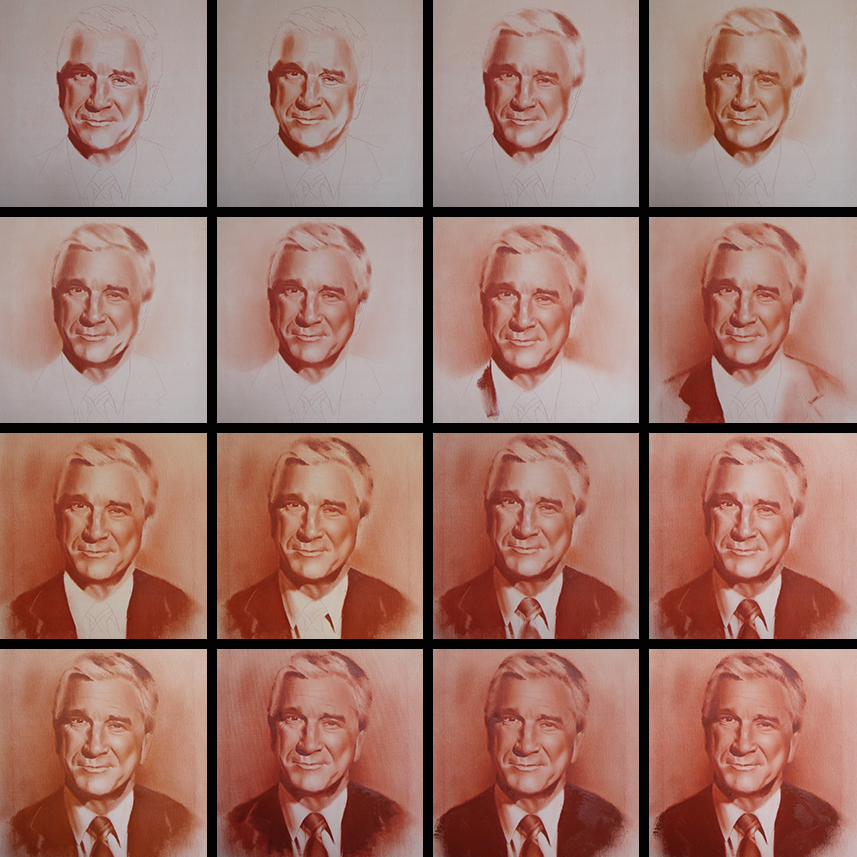 seminars! Hell City and Paradise Gathering
Hello Everyone. I'm scheduled to do a couple of seminars at Hell City Phoenix in August and the Paradise Gathering in September. Please Check out their websites and sign up!
http://www.paradisetattoogathering.com
http://www.hellcity.com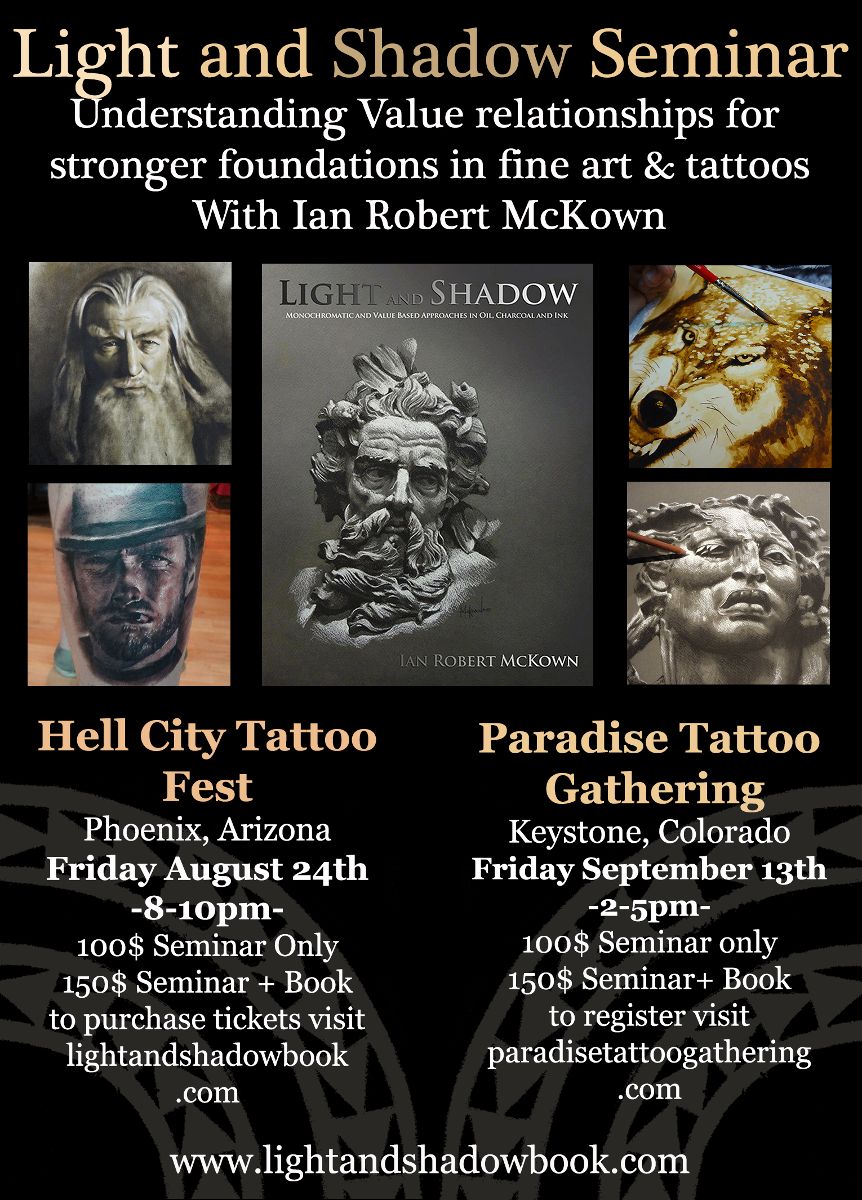 Off The Map Guest Spot
I've got one of my few guest spots this year coming up! I'll be tattooing at Off The Map tattoo in Grants Pass Oregon from August 6-10th. As of now, my schedule is completely open, so if you'd like to set up some time to get a tattoo, or discuss an idea, feel free to contact me at errantephemera@gmail.com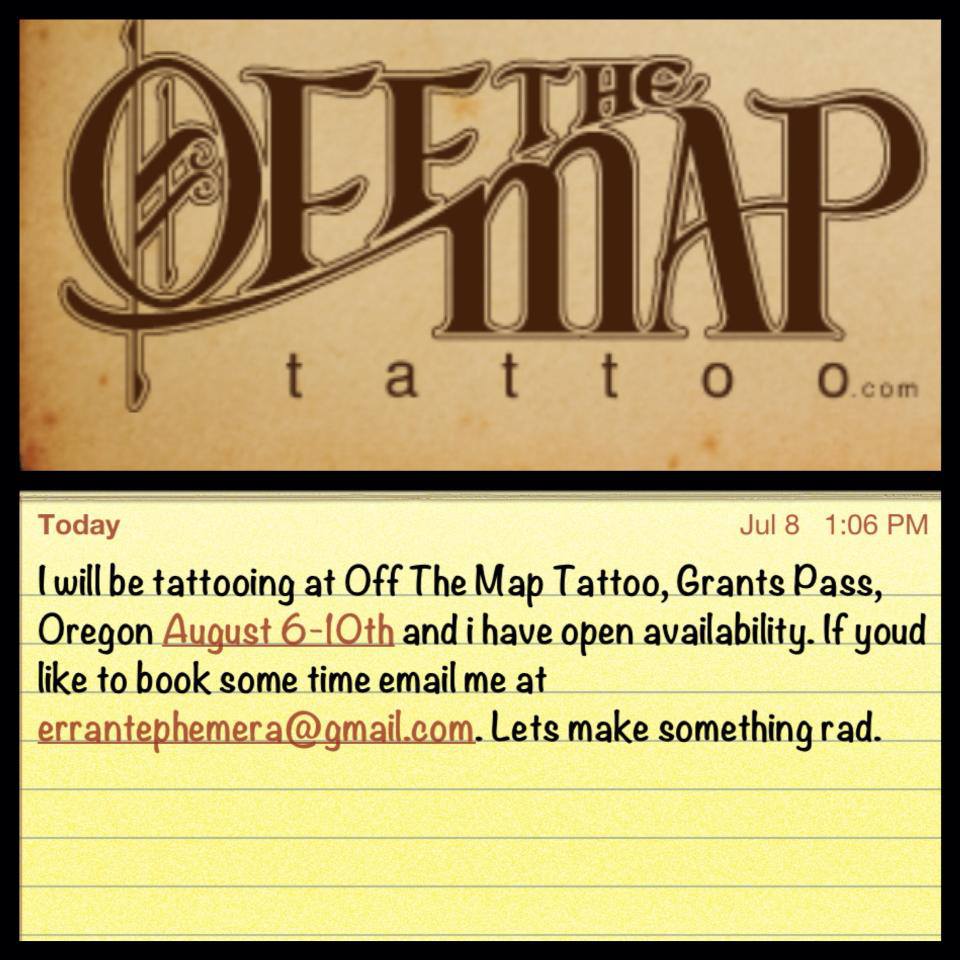 Better Art!
I recently released a book detailing my approach to seeing, understanding and reproducing values in a composition and I truly feel if you're looking to further your work when it comes to realistic pieces, this book will come in handy. 120 full color pages, 6 full tutorials and nearly 100 original pieces of work. Check it out!!!
order at http://www.lightandshadowbook.com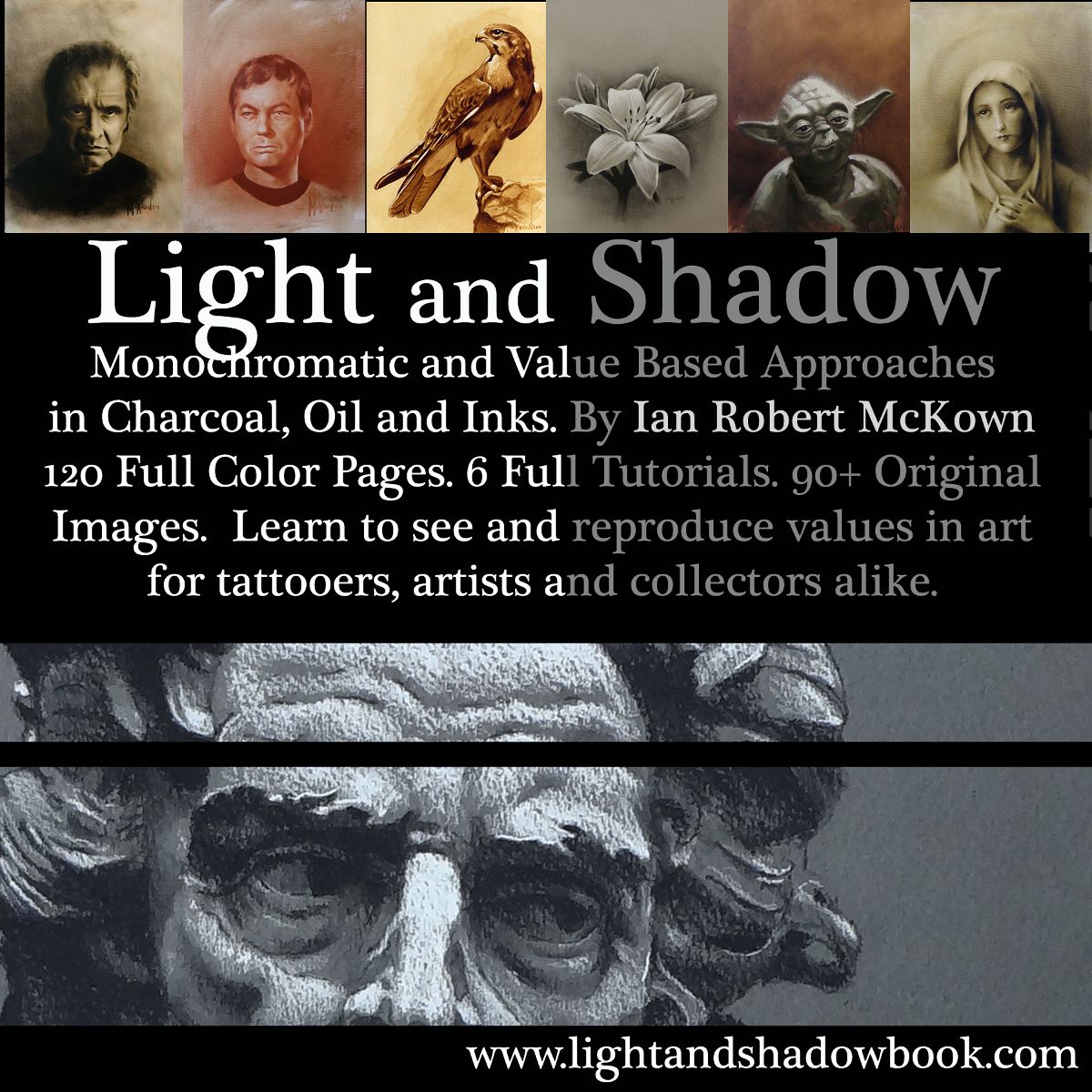 Equipment Review!
I was gracioulsy given a prototype footswitch to try out by the crew over at FKIrons. This footswitch easily replaces the "gem" style ive used for the past 10 years. Not only does it have a lower profile (making it easier to activate) but its also very sensitive which means I only have to apply a but of pressure to get the machine going. Machined out of billet aluminum making it bullet and stomp proof. My prototype is raw metal but the production models will have an anodized finish. From what I understand they will be out later this month for sale on their website and through their distributors. I'd suggest picking one up.
http://www.fkirons.com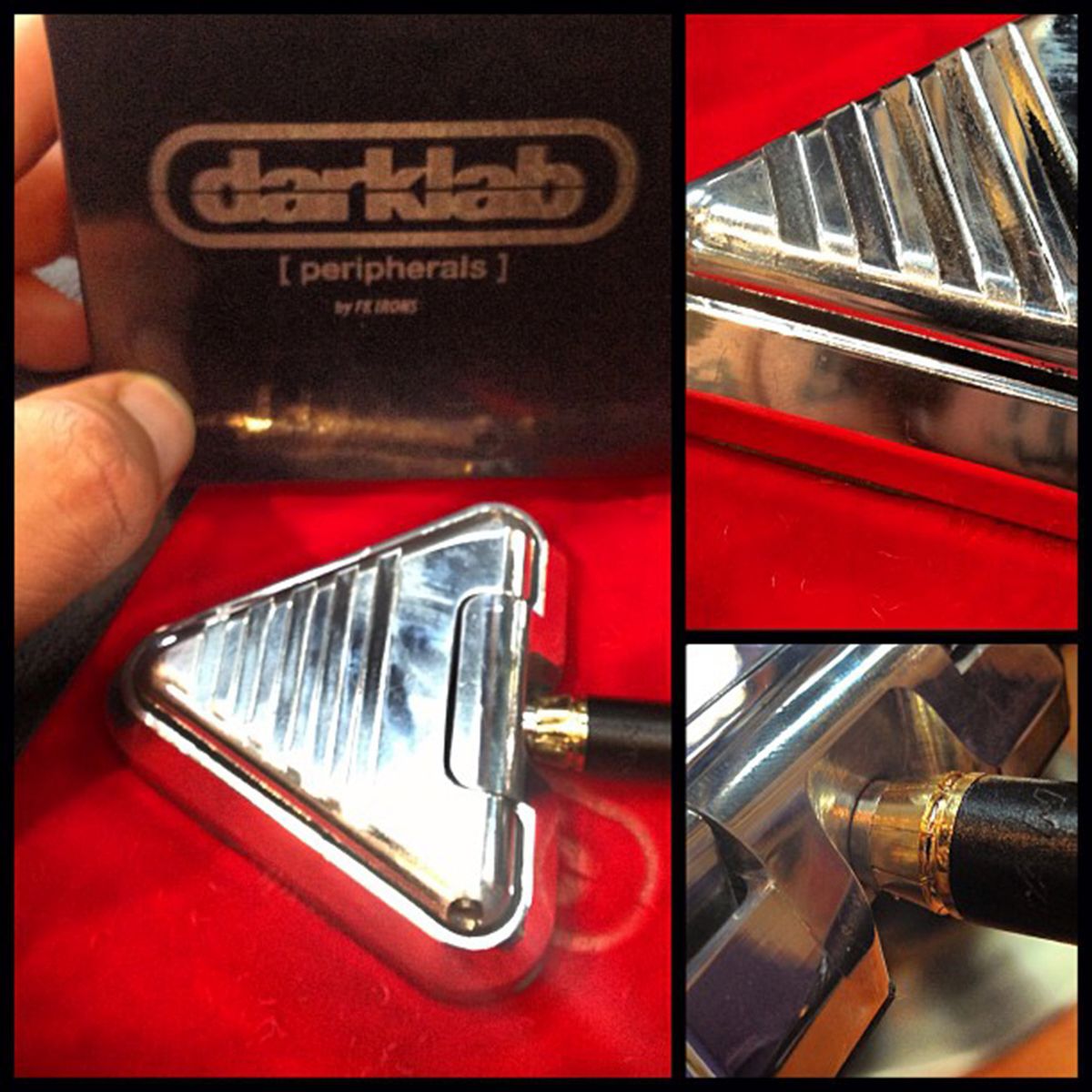 FREE APP!!
So, the good people at http://www.tattoonow.com build me an amazing app for the iPod, iPad and the touch. You can click your ap store button on your phone and search for the keywords "Ian McKown". It's free, and is more or less a miniature, easy to use website containing all my art, tattoos, blogs, videos and even a way for me to notify everyone when I have important announcements. Best part? It's FREE! go check it out!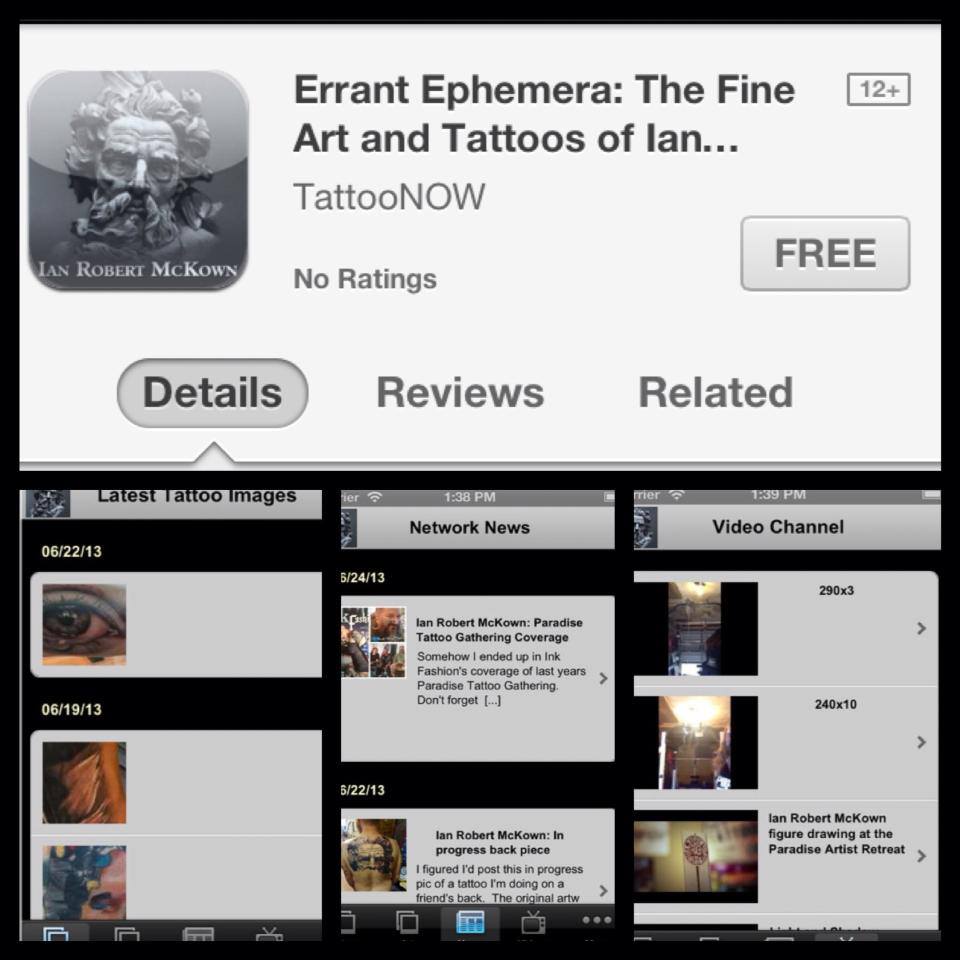 NEW DISTRIBUTOR
Kingpin Tattoo Supply is NOW carrying copies of my book, Light and Shadow. They're a great company that I've personally purchased through for many years!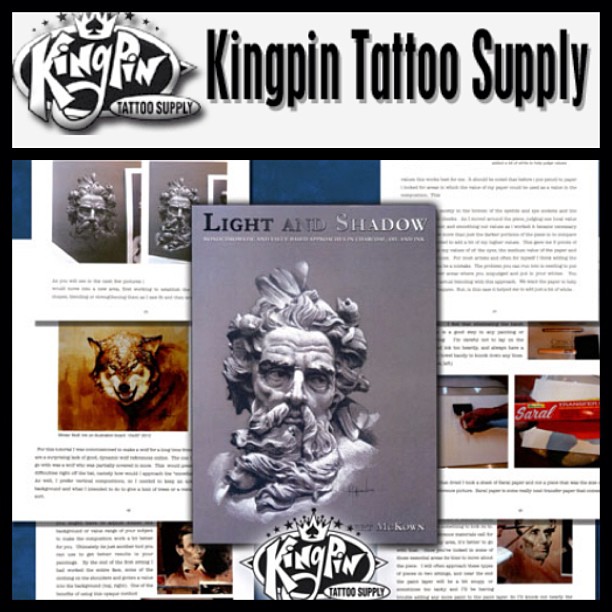 Start of a new painting
I started this commission oil painting last night. This is a rough open grisaille, painted with burnt umber. Below is a pic of the painting including the reference and a short snippet of the painting in action.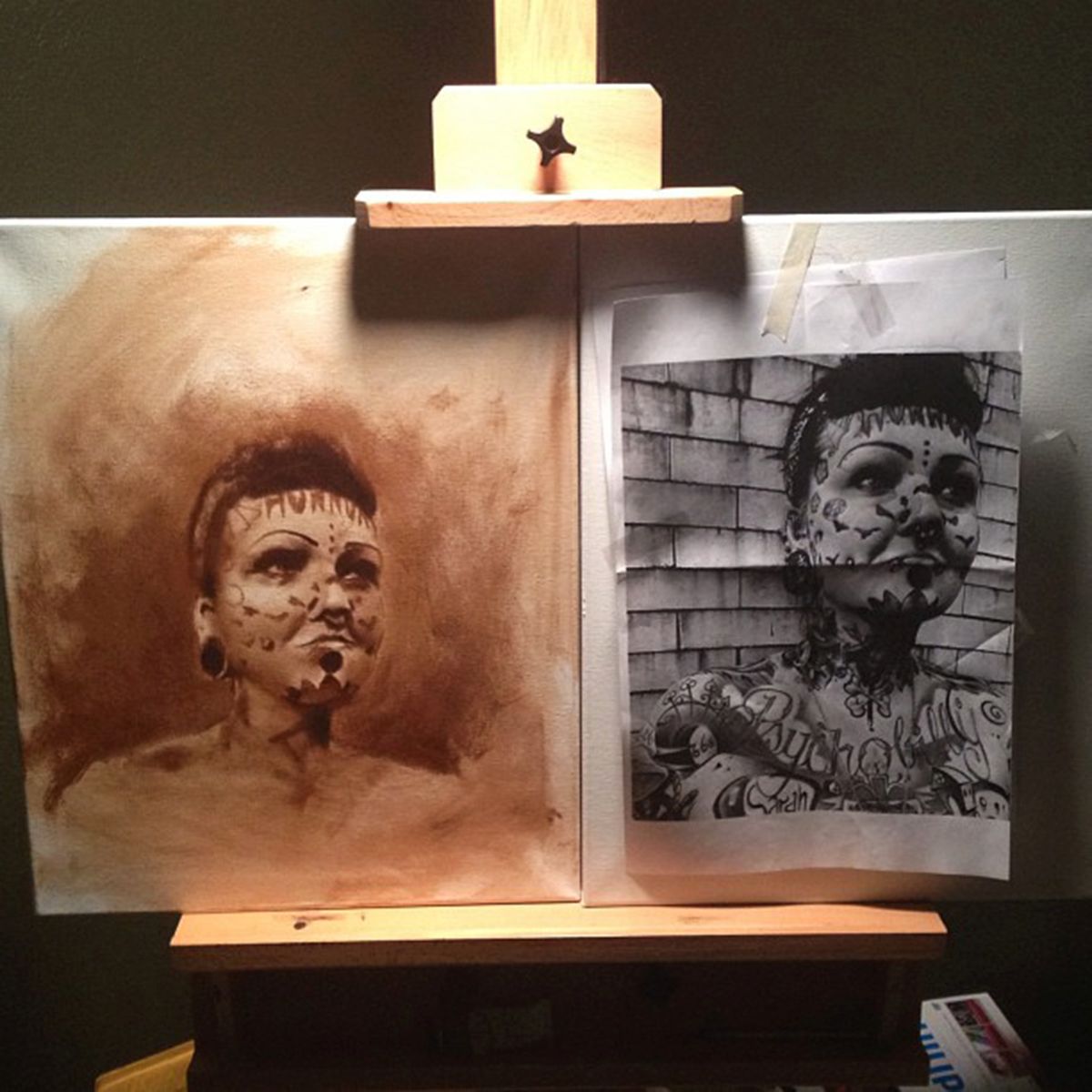 Paradise Tattoo Gathering Coverage
Somehow I ended up in Ink Fashion's coverage of last years Paradise Tattoo Gathering. Don't forget that this years Gathering is just a few short months away, and I still have a few spots for tattoos and seats in my seminar on Value based work. Hope to see you there. for more info check out http://www.paradisetattoogathering.com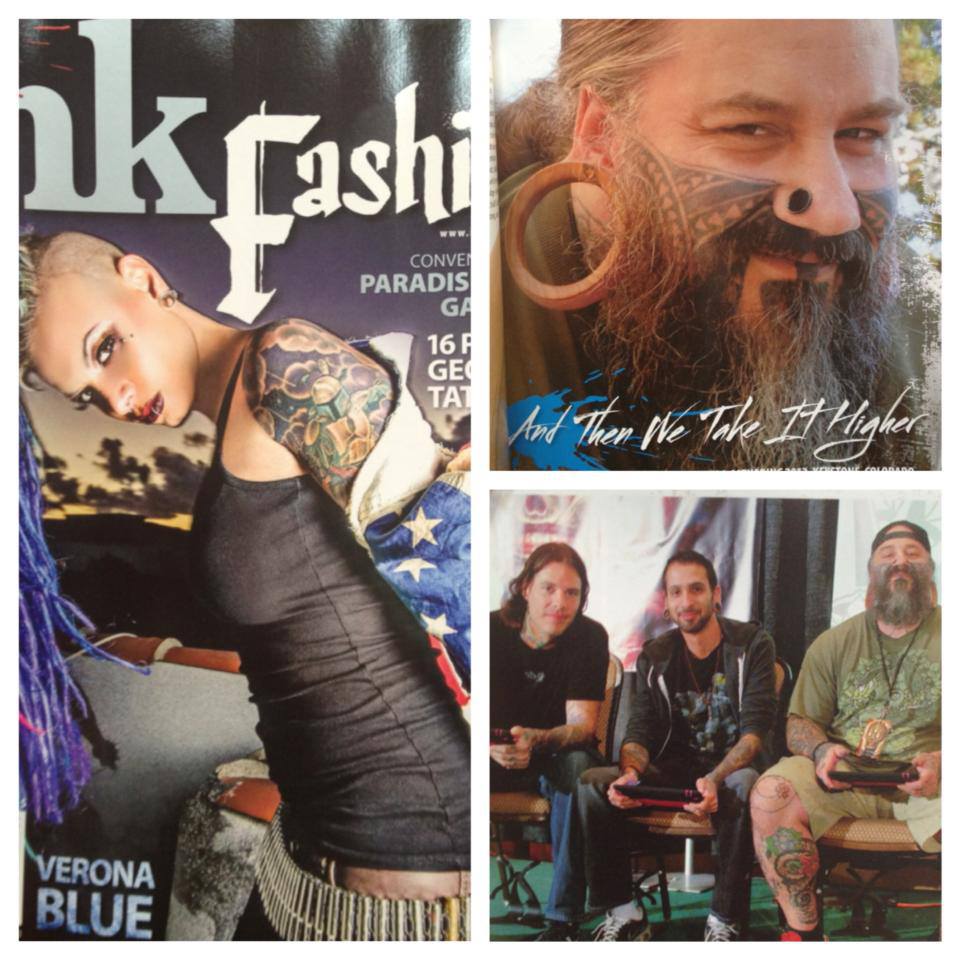 In progress back piece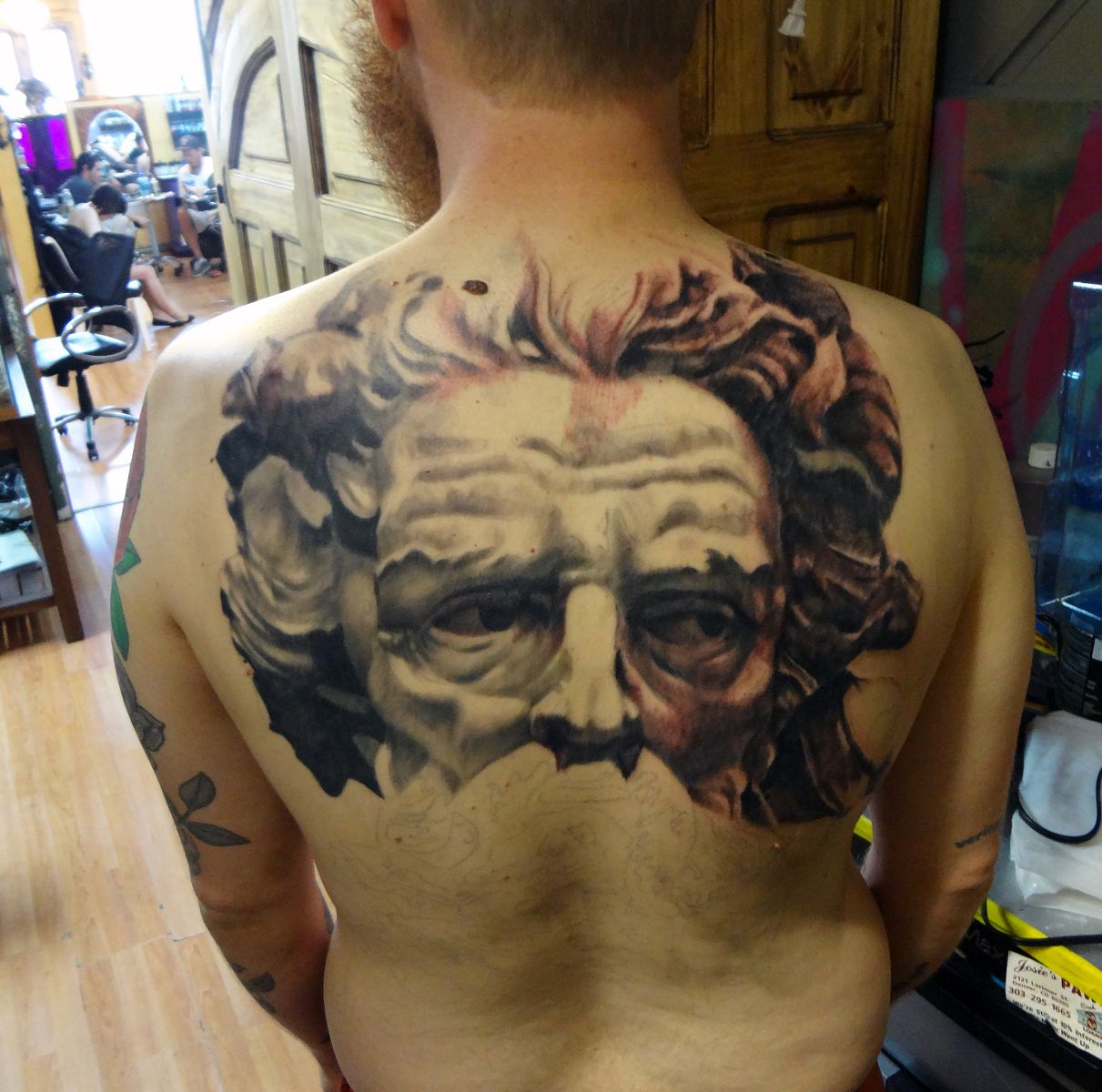 I figured I'd post this in progress pic of a tattoo I'm doing on a friend's back. The original artwork is the charcoal drawing I did for my recent book release ( avaliable at http://www.lightandshadowbook.com). We are several sittings in and have another 4-5 2 hour sittings to go until it is completed. Thanks for looking!
Hell City Seminar!!
Light and Shadow: Understanding Value relationships for stronger foundations in fine art and tattoos
Value is King when it comes to making believable depth and separation of different elements within a composition whether it be a tattoo or a piece of fine art. In this seminar we will discuss
Value as a fundamental artistic concept and tool
The differences between chromatic and absolute value
How to organize and plan for stronger value ranges in a composition
Maximizing believable depth through careful attention to value relationships
Reproduction work simplified
And more
Cost is 100$ per person, or 150$ with a copy of my book Light and Shadow
http://www.lightandshadowbook.com
Check It
New Coverage
I've got a new tutorial in the lasted issue of Tattoo Artist Magazine (TAM)
Check it out!!!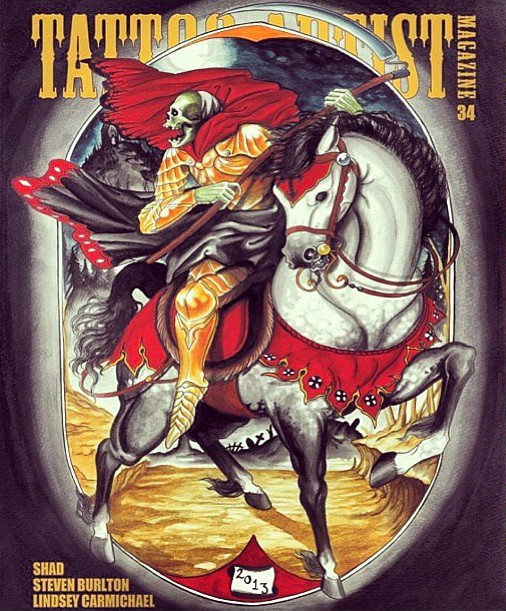 NEW BOOK OUT NOW!!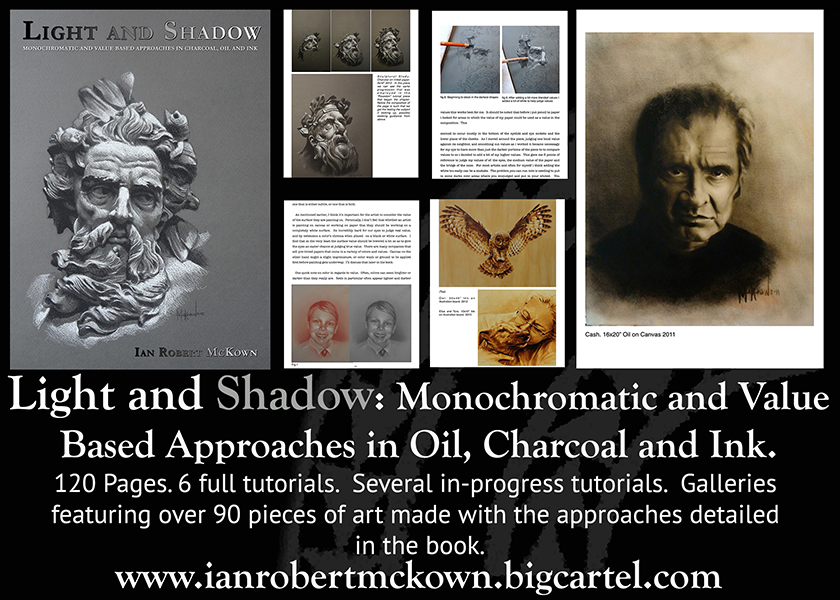 NEW BOOK OUT NOW!!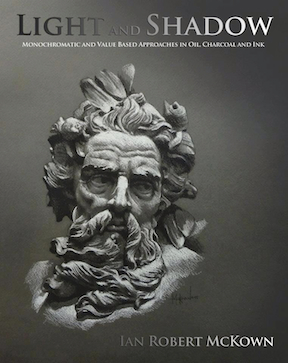 My new book, Light And Shadow isn now available. Learn how to approach monochromatic and value based works in charcoals, inks and oils. This is a must have tool for anyone serious about reproduction work, including tattooing! Order at http://www.ianrobertmckown.bigcartel.com
New Painting---almost complete!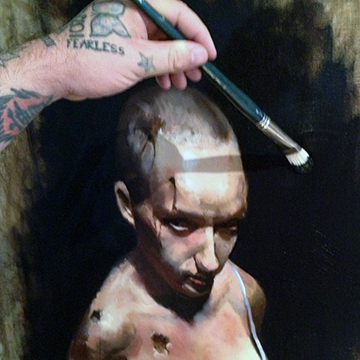 NEW Time Lapse Video- Ian Robert McKown paints Einstein
Tattoo Gift Certificates!
FREE 25$ Gift Certificates towards your next tattoo! Jut come down to the tattoo shop and pick one up!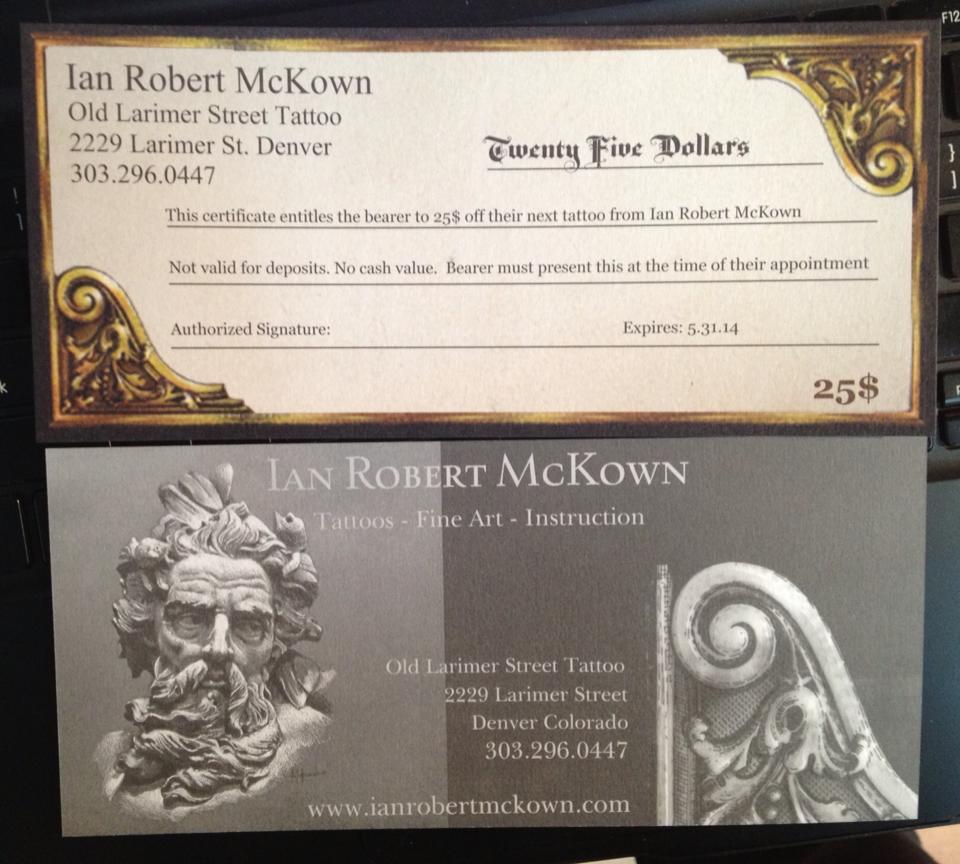 Painting Time Lapse!
Check out this time lapse video, taken during working on a painting tutorial for the forth coming book!
New tutorial out in stores!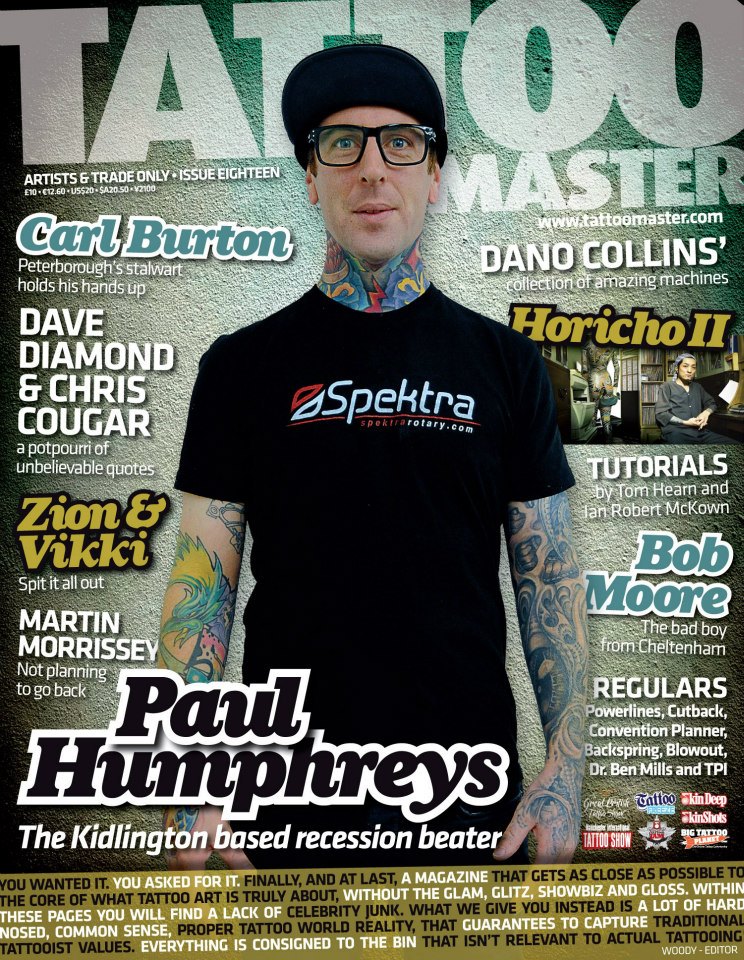 Finished Earth Mother (4) for another tutorial
I had the pleasure of starting and finishing this 2x4' panel at this year's Paradise Tattoo Gathering. Look for a step-by-step tutorial in Tattoo Master Magazine, issue #18 due out later this year!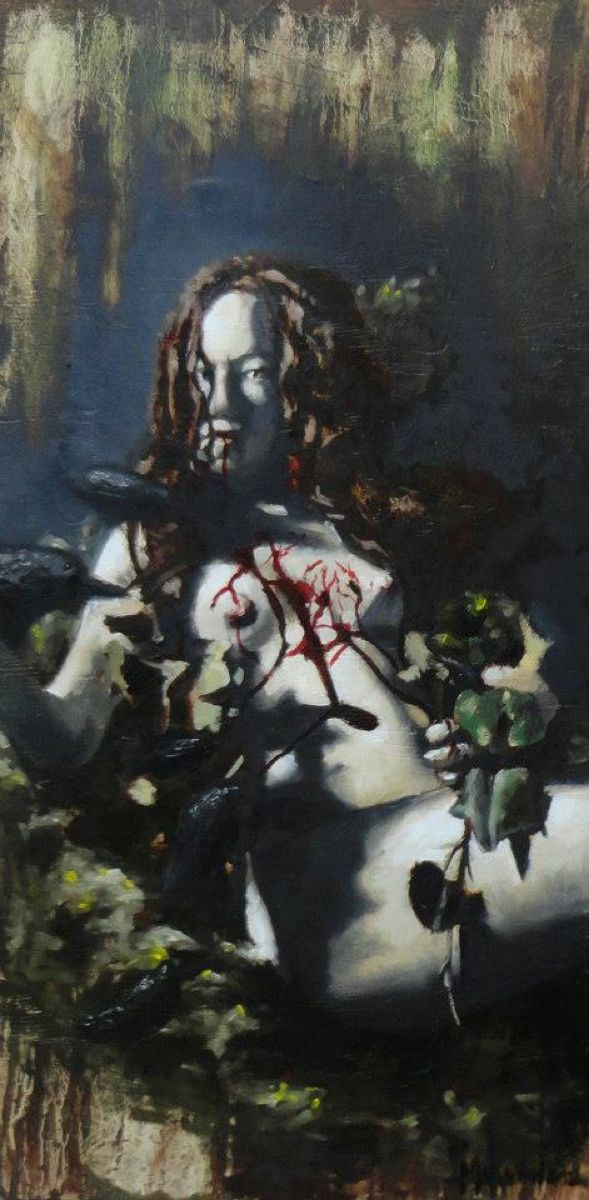 New Tutorial Published